Wearing fashionable clothing can sometimes feel like a chore, especially when you're not comfortable in your clothes. During the pandemic, many of us abandoned our nice clothes and swapped them for sweats and comfy clothes.
You might be prioritizing your fashion for the workplace or because you need to keep up with your image. Discomfort is often inevitable regardless of why you're focused on maintaining your style. The good news is that it doesn't have to be that way. Here's how to style comfy clothes and still look good.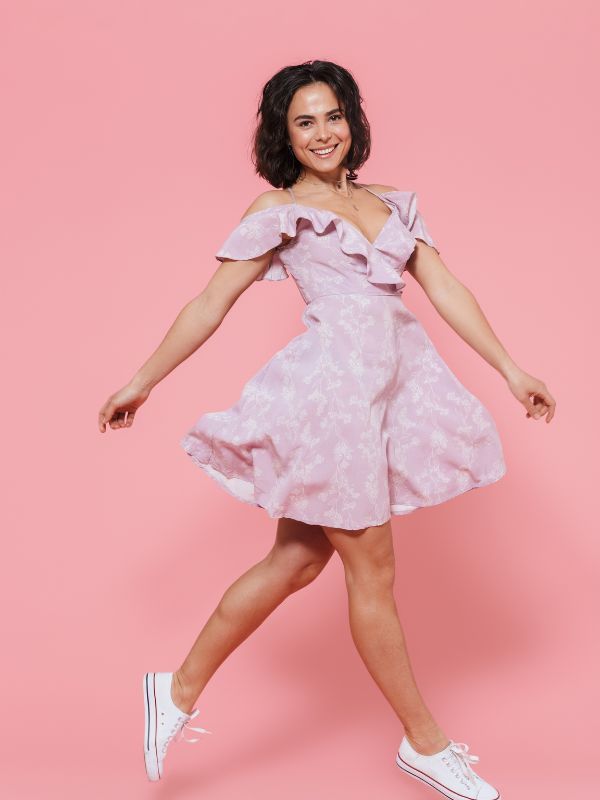 6 ways to style comfy clothes and still look good
Switch Up Your Footwear
Don't let fashion get you down. There are ways to style your clothes and feel comfortable in the most style-forward outfits. You can start with your footwear. Trade out those heels that pinch your feet for flats. Who says business casual has to involve swollen toes?
Let your feet breathe with you as the workday goes on. In some settings, sneakers are starting to crop into the workplace as an appropriate shoe. Switch up your footwear for comfort and style. Don't settle for blisters and sore feet.
Fur-Lined Ankle Boots
Boots are versatile and durable shoes. They can also be uncomfortable. To achieve comfort and fashion at the same time, go with fur-lined ankle boots instead of alternatives. With the soft interior, you will feel like you're wearing women's slippers.
Faux fur works just as well if you are looking to build a sustainable wardrobe or implement sustainable items into your wardrobe. Think about your comfort and how you can choose better lining fabrics in your footwear to achieve a balance of style and functionality.
Choose Better Fabric
To style well and stay comfy, choose breathable fabric for your underwear. With work-from-home looking like the new norm for many people, you can select alternative materials to stay more comfortable. Rather than your nylon blends, stick with cotton or linen for underwear. You might not think much about your underwear, but it can make a big difference in how you style your outfit and in how you feel.
Related Posts
Find Clothes That Display An Illusion Of Formal Wear
You want to find clothes that look formal but feel like cozy sweats. You can wear leggings and a silk blouse and look like a million bucks but feel like you just put on your pajamas. Look for creative ways to pair super comfy clothes but still display an illusion of formal wear. Tights and dresses also accomplish this as long as your dresses are not form-fitting.
Stretchy Yoga Pants
When worn in neutral tones (and preferably without large brand logos), yoga pants can work as a substitute for dress pants. Whether you want to dress up for an event or look more put together than you feel, you can style these comfy pants with a nice blouse and still look good.
Tunics And Leggings
Tunics are sometimes challenging to identify. Are they shirts, sweater dresses, or cardigans? Seriously, what are these super long shirts? Well, they're tunics and have their special name because they're confusing.
Given how confusing tunics are as a clothing item, you might not even consider tunics as part of your wardrobe, but you should. You can pair your tunic with leggings and feel like you're wearing your grandma's well-intended yet ugly-looking knitted sweater while still looking presentable.
The Bottom Line
Styling comfy clothes while achieving a pleasant appearance is possible. You might need to get creative first, but once you get into it, you can learn to stock your wardrobe with all you need to create cozy but stylish looks. Choose clothes that keep you feeling light and energized. By making mindful choices, you can achieve comfort and style in every outfit.