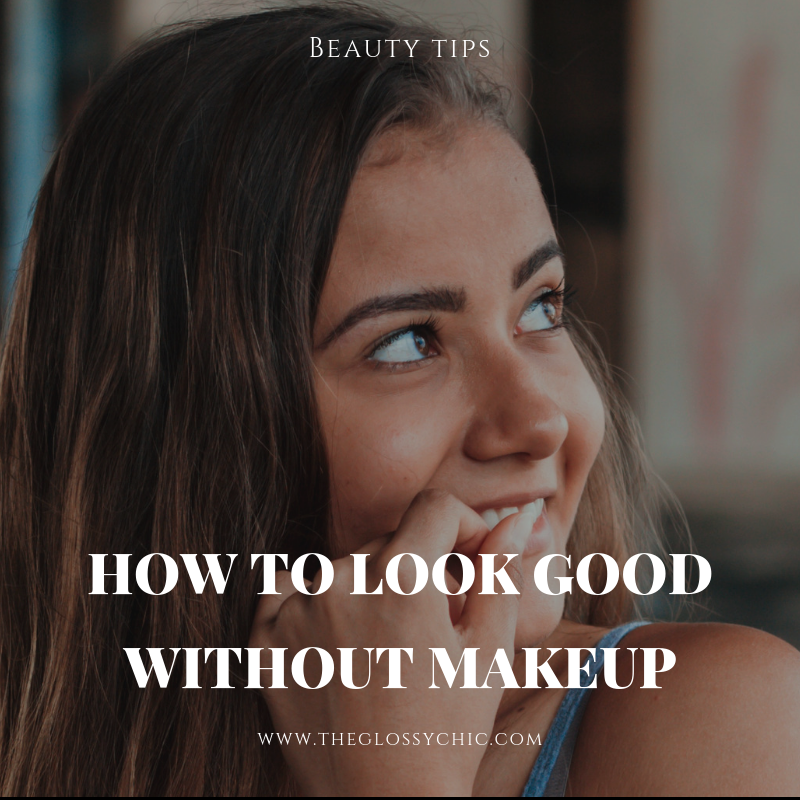 Makeup as we all know, enhances your beauty and makes you feel good about yourself. Some people have gotten so used to wearing makeup that they feel they don't look good without makeup.
But that shouldn't be the case. It is very important that you feel good in your own skin even without makeup. Whether you are late and do not want to waste time in front of the mirror or you just don't feel like putting on makeup or you want to give your face a chance to breathe, these are a few tips on how to look good without makeup.
How to look good without makeup
1. Practice good face care routine
Wash your face at least twice a day
Face care is very important if you want to look good without makeup. So find a facial wash that is best suited for your skin type and use it to wash your face at least twice a day. Preferably, once in the morning and once at night.
If you have an oily face, then an oil-free face wash is what you need. Washing your face will remove all dirt, makeup leftover, and excess oil from your face. It will also open up your pores and give your face that fresh feeling.
Exfoliate regularly
This removes dry and dead skin cells from your face to reveal clean and glowing skin. Exfoliate with a gentle face scrub at least once a week.
Moisturize your face
After washing your face, it is very essential to apply a face moisturizer on your face. People tend to use their body cream to moisturize their face which is really bad. You must get a face moisturizer that is best suited for your skin type.
Moisturizing at night is very important too. If you are prone to pimples, use a light or non-oily face moisturizer. If you have a dry skin type then you should go for moisturizers with nourishing ingredients like shea butter or aloe vera.
Use anti-aging face masks and moisturizers
You are never too young to start using anti-aging products. These will help leave your skin looking younger and more beautiful. These anti-aging products get rid of fine lines and wrinkles.
2. Eat healthy and drink lots of water
If you eat healthily it will reflect on your skin and your face. You will look better and feel better too. Drinking a lot of water keeps the body hydrated. To make drinking water easier, you can try some fruits infused water recipes to add flavor to your water.
3. Get rid of pimples
Pimples and acne are common skin problems but they are treatable. If you eat well, drink a lot of water, exfoliate regularly, and moisturize your face, you will notice that the pimples on your face will be reducing.
Avoid touching your face and popping the pimples, or picking at spots or any other skin eruptions that you may have on your skin. Touching them will only leave black spots and scars.
Also, use a good face cleanser as face cleansers clear pores and remove excess oil. Use acne treatment creams. These are very effective creams for acne/pimples.
But just like other acne creams, they tend to make your face fairer with regular application. So the best way to apply these acne creams is to put them on only the problem areas and not the whole face.
Related Posts
4. Get enough sleep
Being well-rested makes you wake up with glowing skin. So having a good sleep is very important. If you don't have enough sleep, you wake up with puffy eyes and that is so not cool.
5. Groom your eyebrows
Remove stray hairs from your eyebrows. This makes your eyebrow look tidy and beautiful. Having perfectly shaped brows can do wonders for your face by framing your eyes, therefore making them the center of attention.
6. Enhance your lips
Exfoliating and moisturizing your lips will prevent your lips from being all dry, flaky, or chapped. Keeping your lips smooth and healthy is very essential.
7. Dress well
If you are well dressed, you will look amazing without makeup. Some tips for dressing up include:
a. Avoid oversized clothes.
b. Don't be afraid to mix prints to create your own style.
c. Use colours that complement each other.
d. Be simple but classy.
8. Wear sunglasses
Wearing sunglasses takes your look to a whole new level. You will look amazing without makeup if you have sunglasses on. Grab yourself a gorgeous pair of aviator sunglasses for women online.

9. Style your hair
Since you are not going to be putting on makeup, your hair has to look good to compliment your outfit. So if you are well dressed with beautifully styled hair, you will still look amazing without makeup.

10. Be confident and smile
You can look great without makeup. The most important thing is to be confident and smile. Everyone looks beautiful with a smile.
The article may contain affiliate links and I my earn a little commission if you purchase through my links but this is at no extra cost to you.