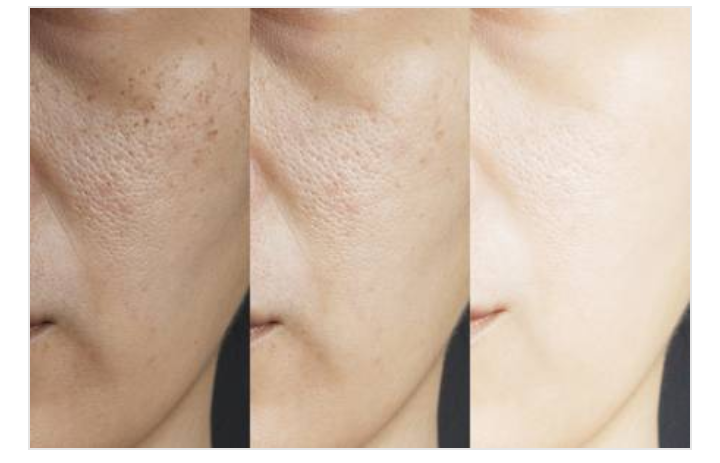 Hyperpigmentation is when your skin and hair product more melanin thus making some areas darker in colour than the normal skin. The causes of hyperpigmentation are exposure to the sun, skin inflammation like acne and eczema and hormonal changes during pregnancy and even monthly periods or ovulation(not too common).
I have been struggling with hyperpigmentation after college and it is not a pleasant thing. So I decided to find ways to get rid of it. And these are some home remedies for hyperpigmentation that worked for me. This product package is from Harryprint.com
Home remedies for hyperpigmentation
1. Using sunscreens:
I thought dark people did not need sunscreens because we had a special filter for sun damage but I was totally wrong. My black cracks under the hot sun and sunscreens are good protection from hyperpigmentation.
2. Exfoliation
Physical exfoliation like using facial scrubs, facial brushes, clairsonic, etc. is effective to fade brown spots and speed up your skin's natural exfoliation rate. It takes 30 days on an average for skin to renew itself completely.
3. Apple cider vinegar
Apple cider vinegar is one of the best home used liquids to treat hypermentation. Mix apple cider vinegar with water in a bowl and apply on the dark patches and leave on for 2-3 minutes. Rinse with lukewarm water and repeat twice daily to achieve results.
4. Aloe vera
Aloe Vera is also good to use at home. It lightens the skin because it contains depigmenting compound that lightens the skin. Apply aloe Vera gel on pigmented areas, leave overnight and rinse with warm water the next morning. Repeat till you get desired results.
5. Milk
Milk has been shown as effective lightening of skin discoloration because it contains lactic acid. Soak a cotton ball in milk and rub over darkened skin twice a day. Repeat daily till you see results.
6. Lime or lemon
One of the most effective ways to cure hyperpigmentation is the usage of lime and lemon because of its high acidic content. Cut lime or lemon into 2 halves, rub on affected areas and rinse with warm water.
7. Tomato paste
I haven't tired this yet but The British Journal of Dermatology in 2011 found that tomato paste is rich in lycopene and its protects the skin against short-term and long-term aspects of skin damage.
Skin is obviously unique to each of us, what works for me might not work for you and vice versa. So try these and hopefully one will work for you. Thank you for reading, you can add a home remedy that worked for you in the comment section.
Sponsor : Glueless full lace wigs from Niawigs.com
ALSO: HOW TO LOOK GOOD WITHOUT MAKEUP
WHY YOU SHOULD STEAM YOUR FACE
amzn_assoc_placement = "adunit0"; amzn_assoc_search_bar = "true"; amzn_assoc_tracking_id = "theglossychic-20"; amzn_assoc_ad_mode = "manual"; amzn_assoc_ad_type = "smart"; amzn_assoc_marketplace = "amazon"; amzn_assoc_region = "US"; amzn_assoc_title = "Shop Related Products"; amzn_assoc_linkid = "2bba62e71871245e0581a22126986961"; amzn_assoc_asins = "B07HF88H8D,B07DQDXX2C,B07Q3TRPF8,B0105T6QYE";
//z-na.amazon-adsystem.com/widgets/onejs?MarketPlace=US
The article may contain affiliate links and I may earn a little commission if you click on the link and buy something through my link. But this is at no extra cost to you