In the same way tailoring can change a look, a different type of earrings can really add or take away from a person's style and face shape. There are ways to pair earrings with an ensemble that exhibits beauty and style. You may even want to make the earrings the centerpiece of the outfit. This article offers an overview of the different types of earrings available these days.
9 different types of earrings
Stud Earrings
Stud earrings are by far the most popular type of earrings because of their versatility. It is often smaller and sits on the earlobe, with a post and backing to keep it in place. They generally have a simple design, but can also come in ornate ones. Precious stones like diamond, pearl, or precious metals like silver and gold are the most popular style of stud earrings.
Hoop Earrings
Hoop earrings make a loop around the earlobe and create a circular shape. The backing is usually a hinged closure, hoop wire, or a lever back. They can be either large, small, thick, or thin. Like stud earrings, they are popular and generally simple in design.
You can find them in ornate materials, however, and the bigger they are, the showier they can be. They are most often made of sterling silver and gold. Hoop earrings can be dressed up or down depending on the outfit and hairstyle of the individual.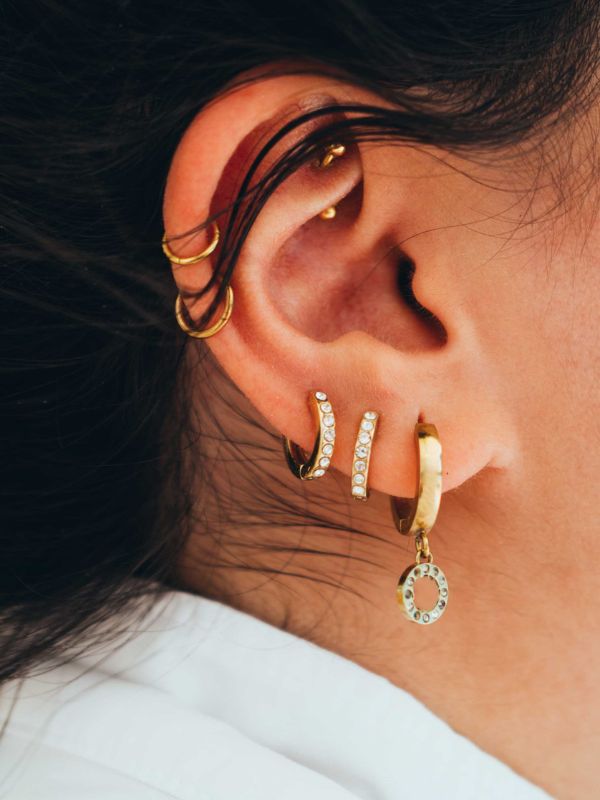 Huggie Earrings
Huggie earrings are also loops but are usually smaller and thicker than hoop earrings. The backing is usually a hinged back or saddleback. They are often made of precious metals. They do not get caught in things as easily, and are versatile with more hairstyles because of their shape and size. They are often a more casual, fun alternative to hoop earrings, but add more drama than stud earrings.
Chandelier Earrings
Chandelier earrings, like the name suggests, hang from the earlobe with a stud and have added designs that are often tapered to be wider at the end. They use a post backing or wire hook to secure the earring. They are often considered "statement pieces" and are made of different materials- precious stones or metals and dangle to create an elongated effect.
They work for cascading ensemble silhouettes such as dresses for weddings and formal occasions. Due to the amount of material used to make chandelier earrings, they generally are more expensive.
Drop Earrings
Similar to chandelier earrings, drop earrings dangle and have an elongated shape, but with a stone or shape at the end of the line. Similarly, drop earrings usually have a post or wire hook backing. Unlike chandelier earrings though, because of their simple design (they usually consist of only one stone hanging at the bottom), they are considered more classic, while still leaning on the formal end of attire.
Threader Earrings
Threader earrings are called that because it looks like thread, and if there is any decorated stone or metal at the end, it is very thin. There is no backing that supports threader earrings. Instead, it is threaded through the earlobe where a post is usually used. The shape is minimal, long, and elegant. Hairstyles that are swept up to highlight them or long and coiffed help to show these earrings off.
Climber Earrings
Crawler earrings or 'climber' earrings are set with stones that 'climb' up the earlobe. They are fixed in the lobe piercing usually with a post. They are a "statement piece" and unlike chandelier earrings, are often for more casual, modern styles.
They can be worn with mismatched earrings or on their own. There are various designs available. Climber earrings look best with hair out of the way or in a bun to show them off.
Barbell Earrings
Barbell earrings are stylish standalone earrings that sit at the top of the ear, through the helix. They have a barbell shape, and the closures sit at the ends to hold them in place. They are edgy and punk and are often paired with more casual styles. Hair pulled away from it helps to best show this earring off.
Clip-on Earrings
Clip-on earrings sit on the earlobe, but unlike all the earrings mentioned here, do not pierce through skin or fat. Clip-on earrings refer to the backing that secures it; like a clip, pressure is applied on both sides of the ear to hold it in place. Clip-ons can usually imitate most of the styles listed above, such as studs, chandeliers, climbers, hoops, and huggies.
Earrings are an important part of stylistic expression these days. And depending on the occasion, and the style one is trying to accentuate, some are better at accomplishing this than others. Some are better for everyday looks, while some are for formal occasions. Whatever the case is, it is worth exploring what looks and feels best to you.