Purchasing jewellery for that special lady in your life is never going to be easy. Yet silver is a very safe bet, as this versatile valuable metal is always in trend. If she is a bracelet type, then the door is open for many styles.
With that in mind, here are a few useful tips on purchasing the right silver bracelet.
Take Note of Her Jewellery
Every woman tries to create her own unique style in jewellery terms. And if you take note of the jewellery she wears, this will point you in the right direction.
Silver comes in many forms. Some are almost white in appearance and clash stunningly with a darker complexion.
Shiny or matte, chunky or slim line, silver bracelets come in so many different designs. You really do need to consider her style.
For some online inspiration on handmade silver bracelets, check out what's on offer at Corazon Latino and similar online jewellers with stylish pieces that are guaranteed to take her breath away.
Chunky Silver
A girl doesn't have to be a bodybuilder to look good in a chunky silver bracelet. As the "chunk" can be tailored to suit even the daintiest of ladies. Chunky silver is perfect for the beach or country look. While it can also complement a casual outfit.
That Special Occasion
If you have decided to surprise your partner with an anniversary dinner, then consider what she will be wearing when you present the bracelet. This would allow her to wear the bracelet at once.
Which is an added bonus and whenever she wears it, she will remember the night you gave it to her. Once you know where you will present the gift, then make sure the selection is suitable.
If you would like some help with gift wrapping and presentation, there is an informative article on the topic which you can refer to.
Online Jewellers
None of us have time to scour shopping malls, looking for the right bracelet. And with online solutions, finding the perfect gift couldn't be easier.
Once you have found the ideal piece, a secure online payment will see the jewellery dispatched to your address, ready for the big day.
You can expect to pay lower than retail prices with an online jeweller, yet you still receive the same quality. And because the online retailer has no massive overheads, they can offer quality jewellery at affordable prices.
Ask a Friend
If she has a friend that you feel can keep a secret, why not ask her to view a few online images? That way, you can be absolutely sure to select something suitable. You could even get her email address and send her images, asking for her to select one that she thinks would be well received.
In the event there is no such friend, you know her style better than anyone, which you must bear in mind when shopping online for silver bracelets.
Knowing her dress style and the kind of jewellery she wears is the first step towards a bracelet selection. And with a reputable online jeweller who offers quality at affordable prices, your gift will be warmly received.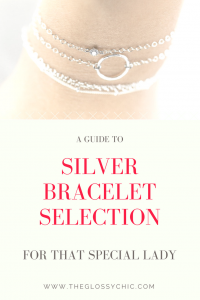 This article may contain affiliate links and I may earn a little commission if you purchase through my link. But this is at no extra cost to you.