Shimmering nail designs are no longer reserved for special occasions like Christmas and parties. Lately, there are so many glitter nail polishes and nail designs that can make your nails shimmer and shine whenever you want.
How to make your nails shimmer
There are also many different ways you can make your nails shimmer. Whether you are using a glitter nail polish, a glossy nail polish to give your nails a subtle shine, or using nail crystals and rhinestones to make your nails spark.
Once you've picked out the product you prefer to use to add shine to your manicure, you should also think of the design you will pick.
You can choose an ombre nail design using the glitter polish. You can also choose to fully paint the nails with the glitter polish. You can also try painting your nails and adorning them with rhinestones.
Want your nails to shimmer and shine? Then check out this beautiful collection of shimmering nail design ideas you can absolutely wear.
Shimmering nail design ideas
Nude coffin ombre nails with glitter
Why wear your nude nails plain when you can add a fabulous twist with some glitter? We love how large these glitter flecks are but you can totally do this with tiny flecks if you are not a fan of the huge flecks.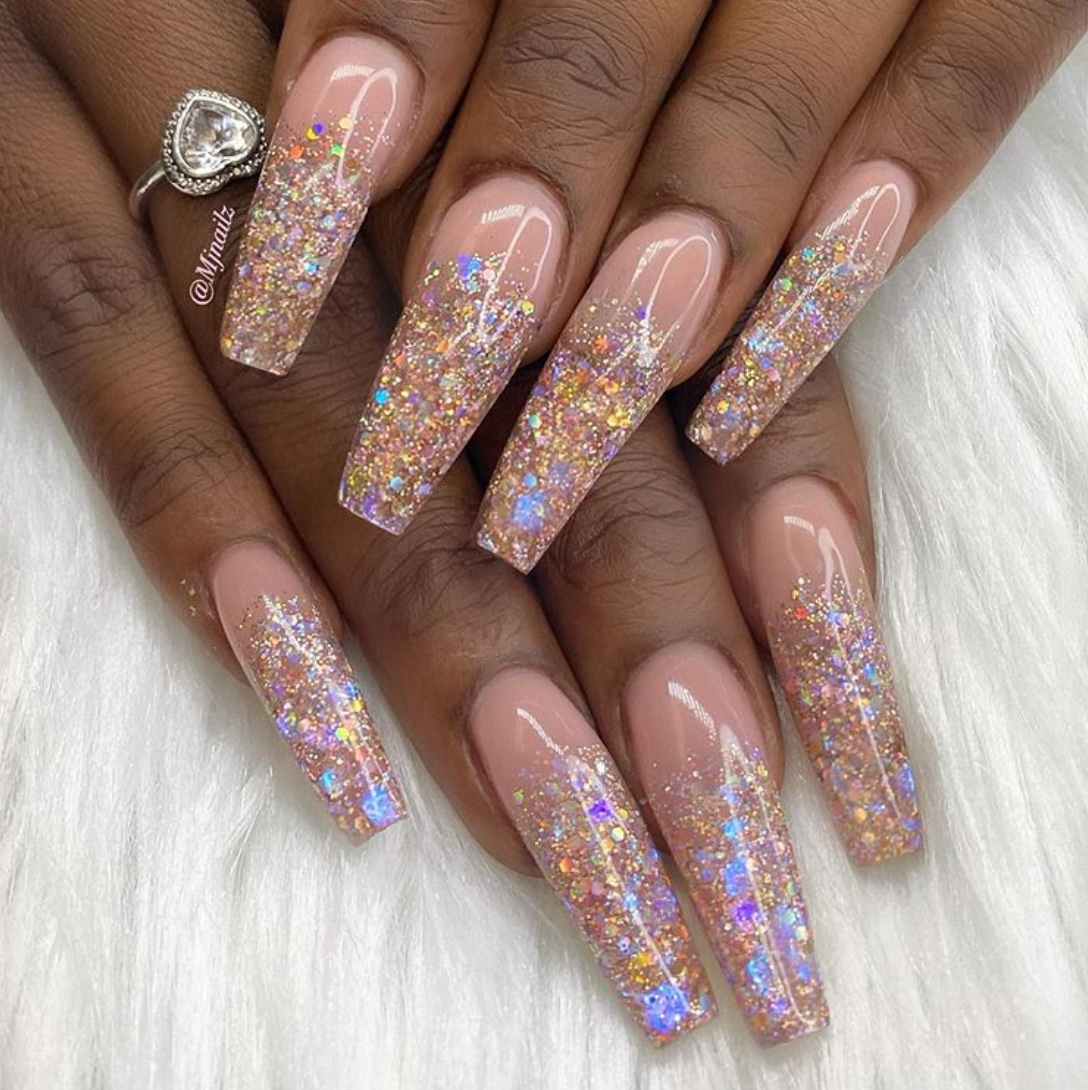 Nude and blue glitter ombre nails
This is similar to the first nail design, except this one uses blue glitter nail polish. You can recreate this nail design using blue or any other glitter nail polish of your choice.
Pink glitter nails with rhinestones
This nail design is just so glamorous. Here, each nail has a different design. The little finger is fully accessorized with nail rhinestones and studs. The ring finger is painted pink and has just a few nail studs at the edge. The middle finger has been painted with pink glitter polish. The fourth finger is adorned with some flower petals and some nail studs. And the thumb is simply painted pink.
Short almond chrome nails
Chrome nail polish gives a glossy finish to your nails that make them shimmer and shine. Here, the nails has been painted with pink chrome nail polish. And a white nail polish has been used to draw a cross symbol on all the nails. You can use a nail brush to draw the cross on the nails.
Pastel pink nails with pink glitter
This is such a chic shimmering nail design that is also easy to do. To get this nail look, paint all the nails with a pastel pink nail polish. Then using a nail brush and a black nail polish, draw a butterfly on the ring finger. After that paint the butterfly with the pink glitter. Then get an ombre look for the other nails using the pink glitter polish
Red glitter coffin nails
This nail design will be perfect for Christmas or Valentine's day. But you can also wear it if you would like to make a bold statement with your nails. You know, let your nails do the talking. Recreate this using red nail polish and re glitter polish with very tiny flecks.
Nude and grey ombre nails with glitter
These nails are short and classy and will be suitable for everyday wear. Whether you have to go to school or work, this nail design will be appropriate. To do this, paint your nails with a grey polish starting from the center to the edges to give it an ombre look. Once it dries, top it off with glitter polish with very tiny flecks.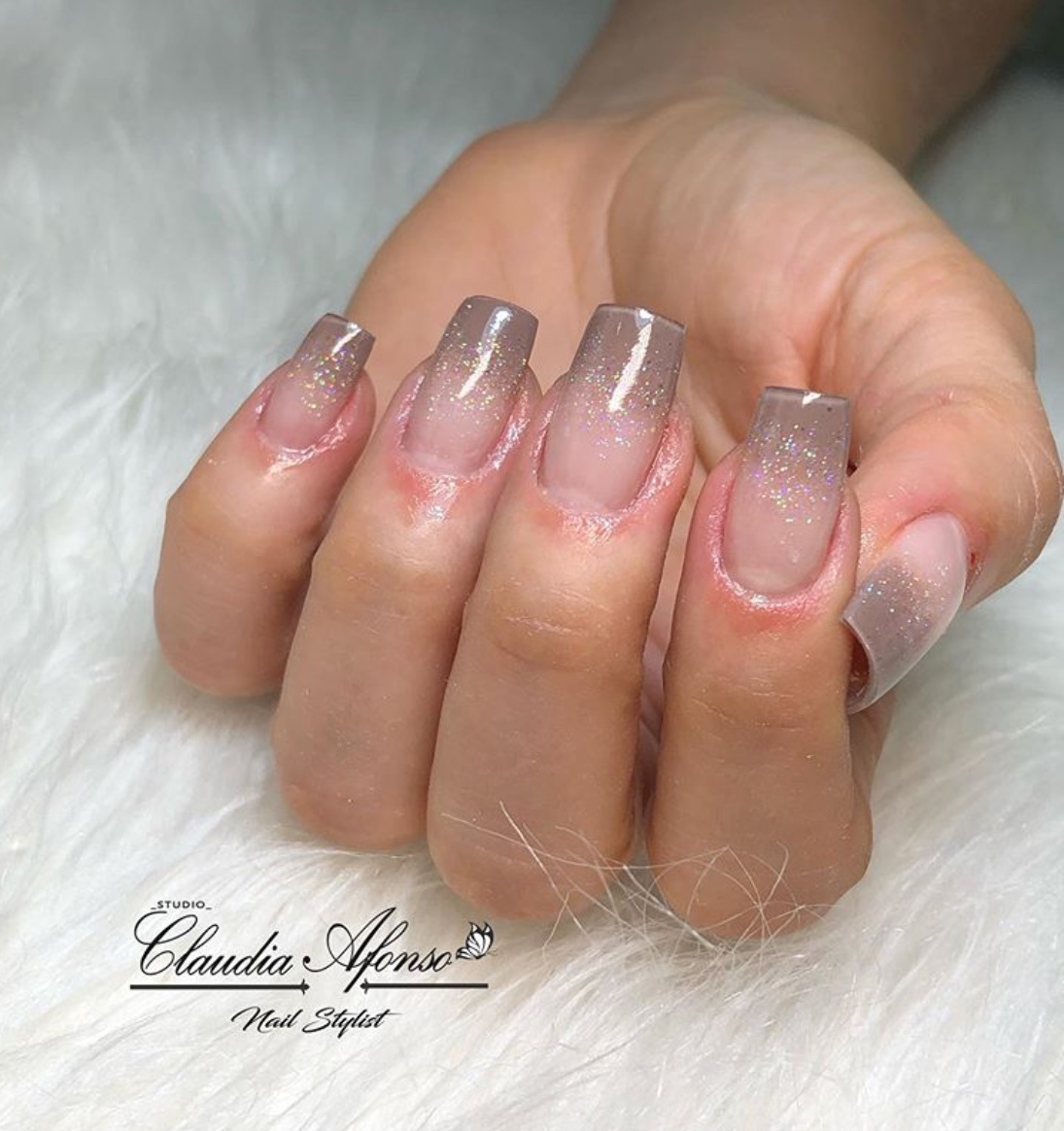 Black ombre nails with glitter
Black nails are not just edgy but they can be fun to. The ombre look alone is enough to make this black nail design gorgeous. But the gold glitter polish spices it up and makes it look more fun.
Glitter nails
Although you can use the glitter polish with plain nail polish, you can also use it on its own. Recreate this nail design using only glitter polish with huge flecks of different colors.
Lilac ombre with rhinestones
Lilac is such a pretty color and it complements every skin tone. For this nail design, there are two ombre nails painted with lilac and nude and accessorised with rhinestones. Then one nail is completely painted with lilac and also accesorised with rhinestones and the other is a clear false nails with glitter lilac dots. You can achieve this by simply using a dotting tool.
Rose gold with rhinestones
Rose gold is a very popular color lately and it's obvious why. It is just so gorgeous and adds such an elegant touch to anything. Recreate this design using chrome pink polish, nude nail polish and some rose gold glitter with large flecks.
Blue and glitter
Glitter makes everything more beautiful. With this, we have two nails painted with blue, one nail painted with chrome white polish with glitter patterns on it and then an ombre glitter nail.
Shimmering nail designs for wedding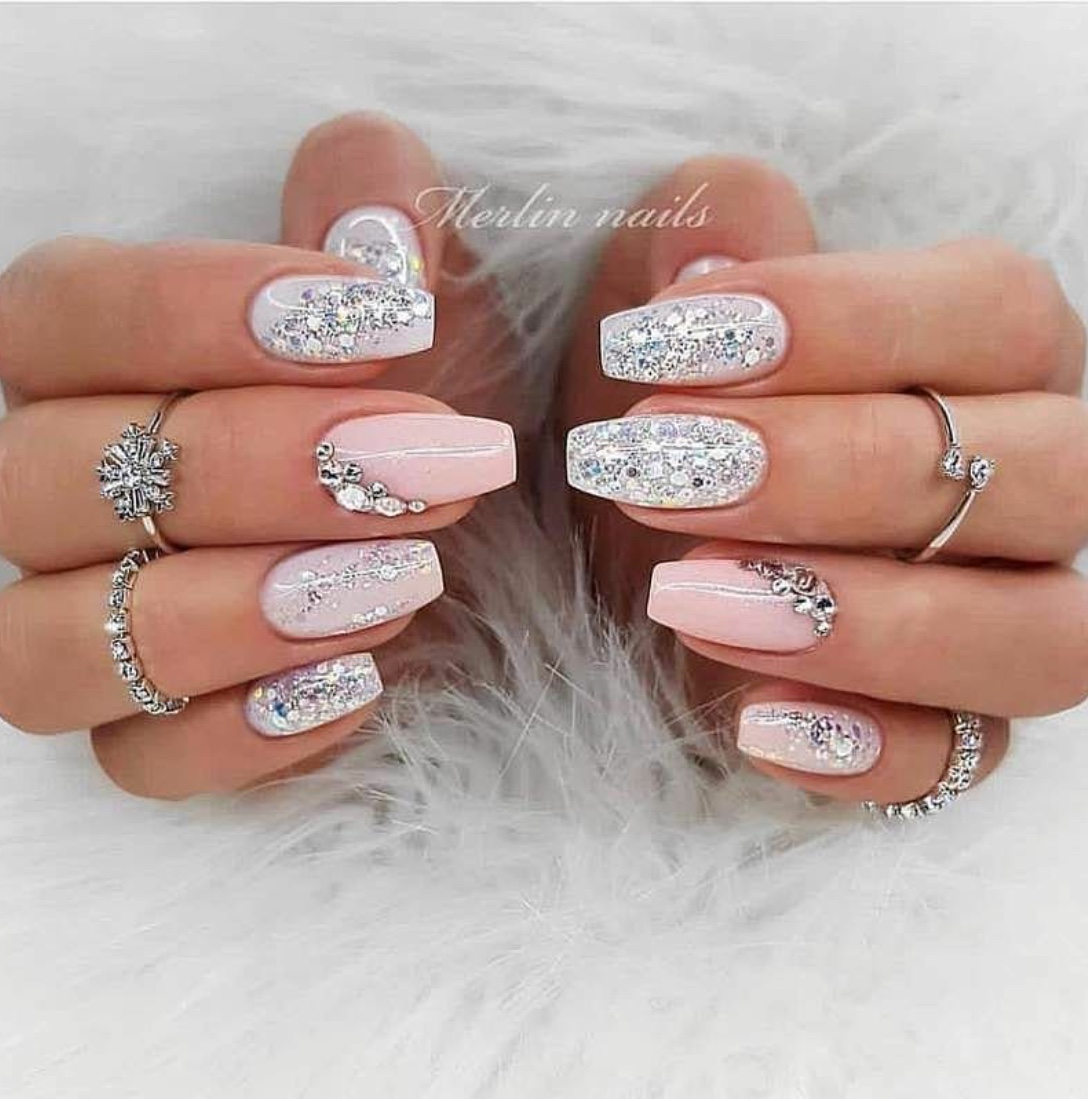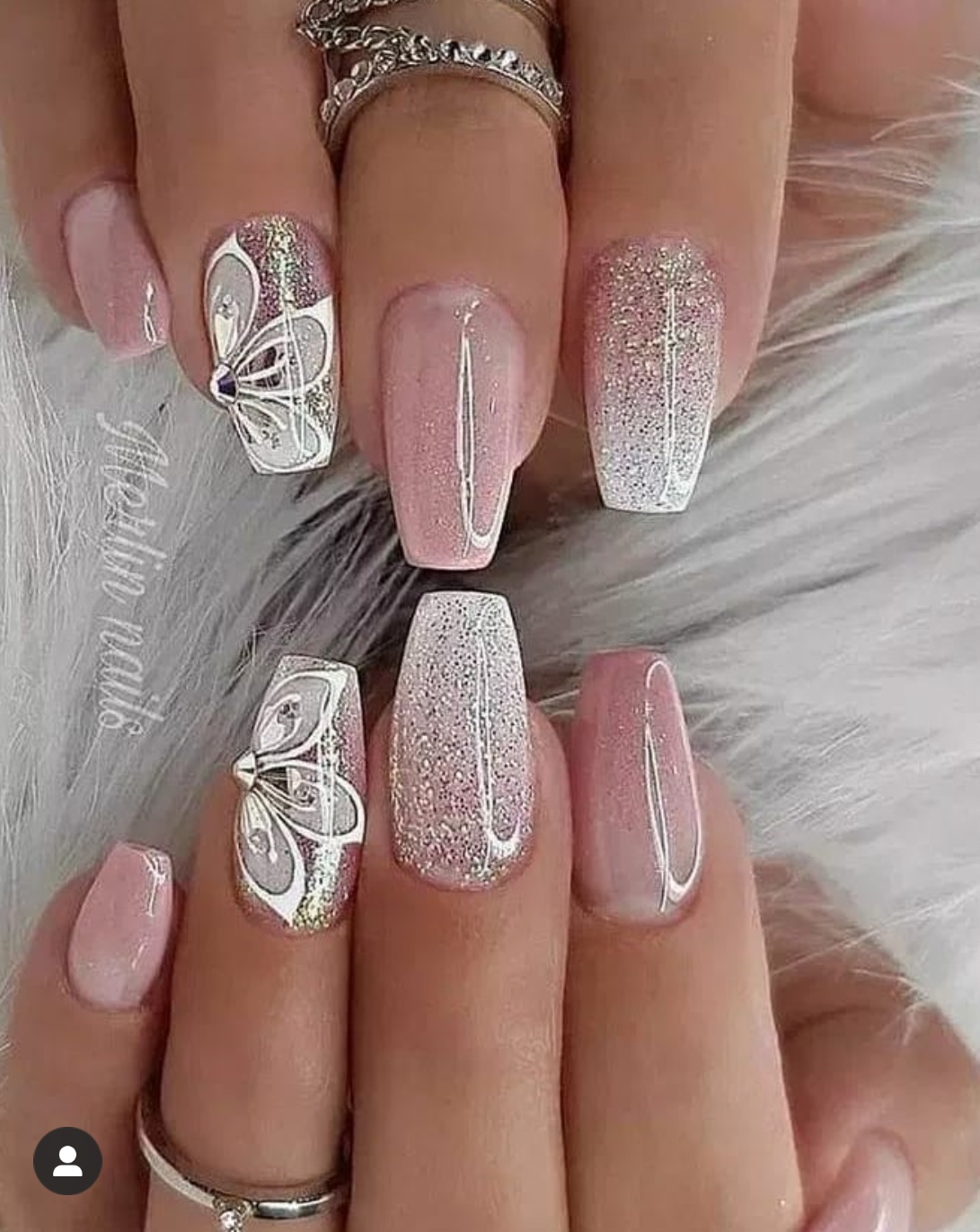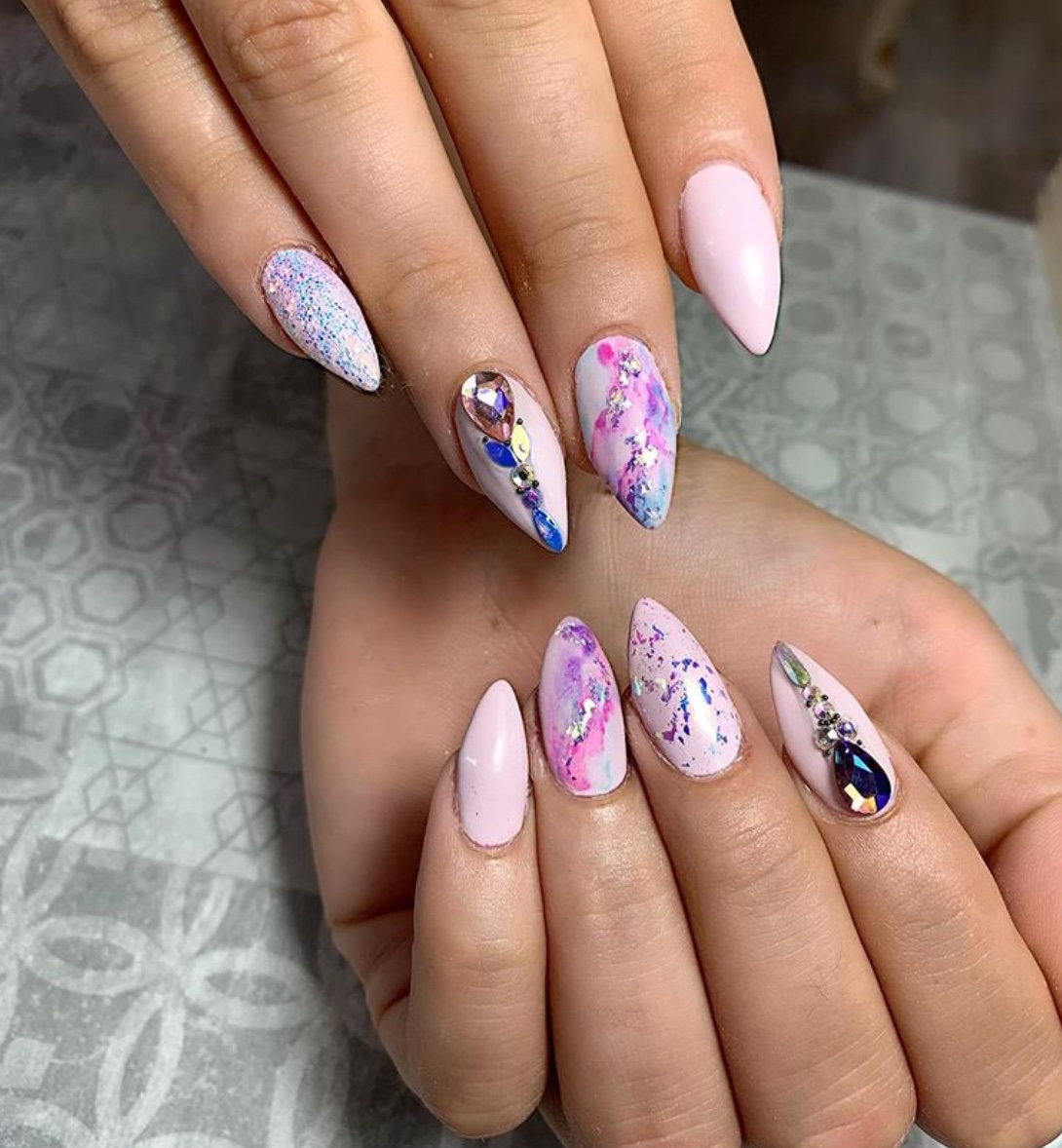 Dark shimmering nail designs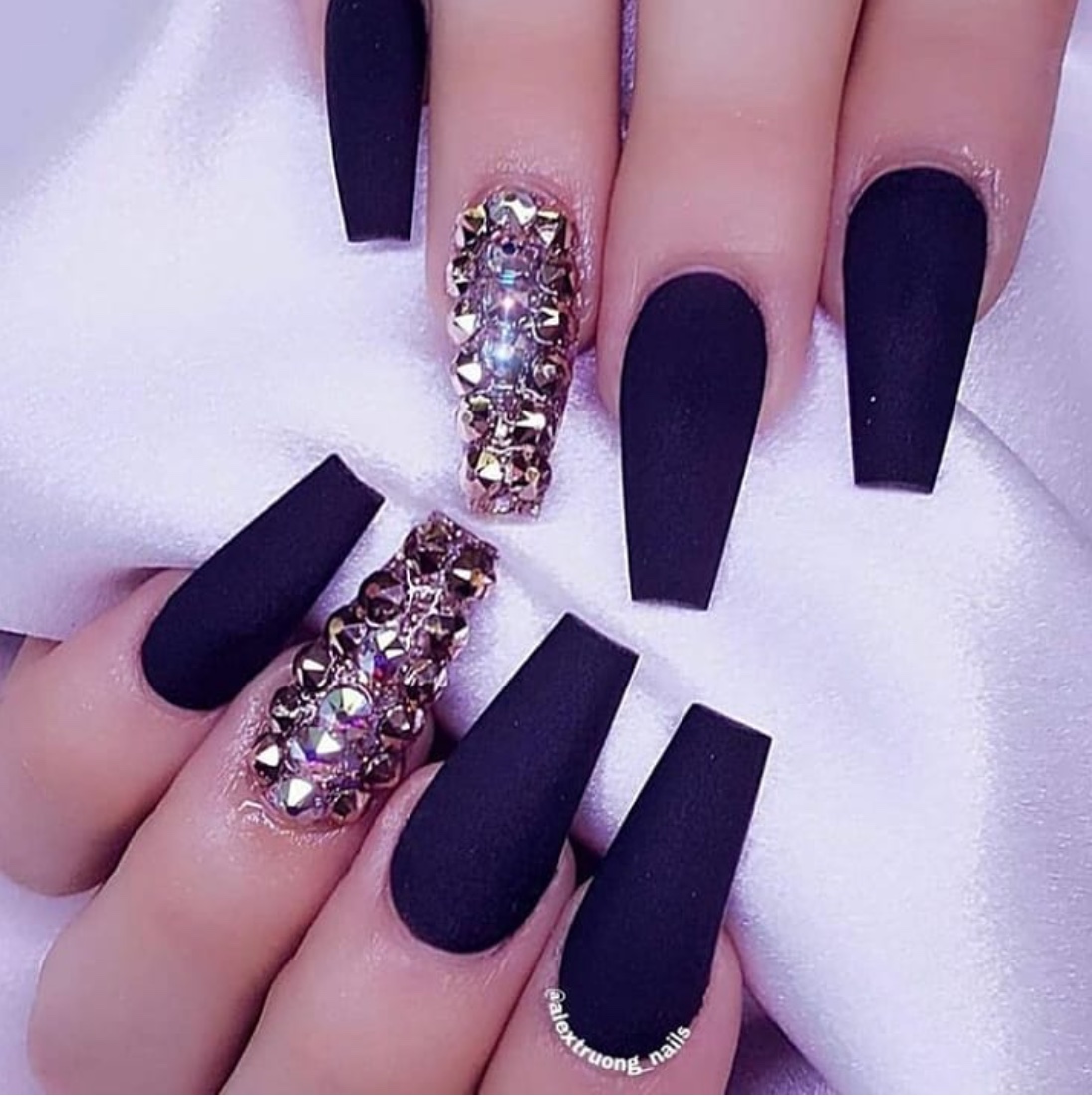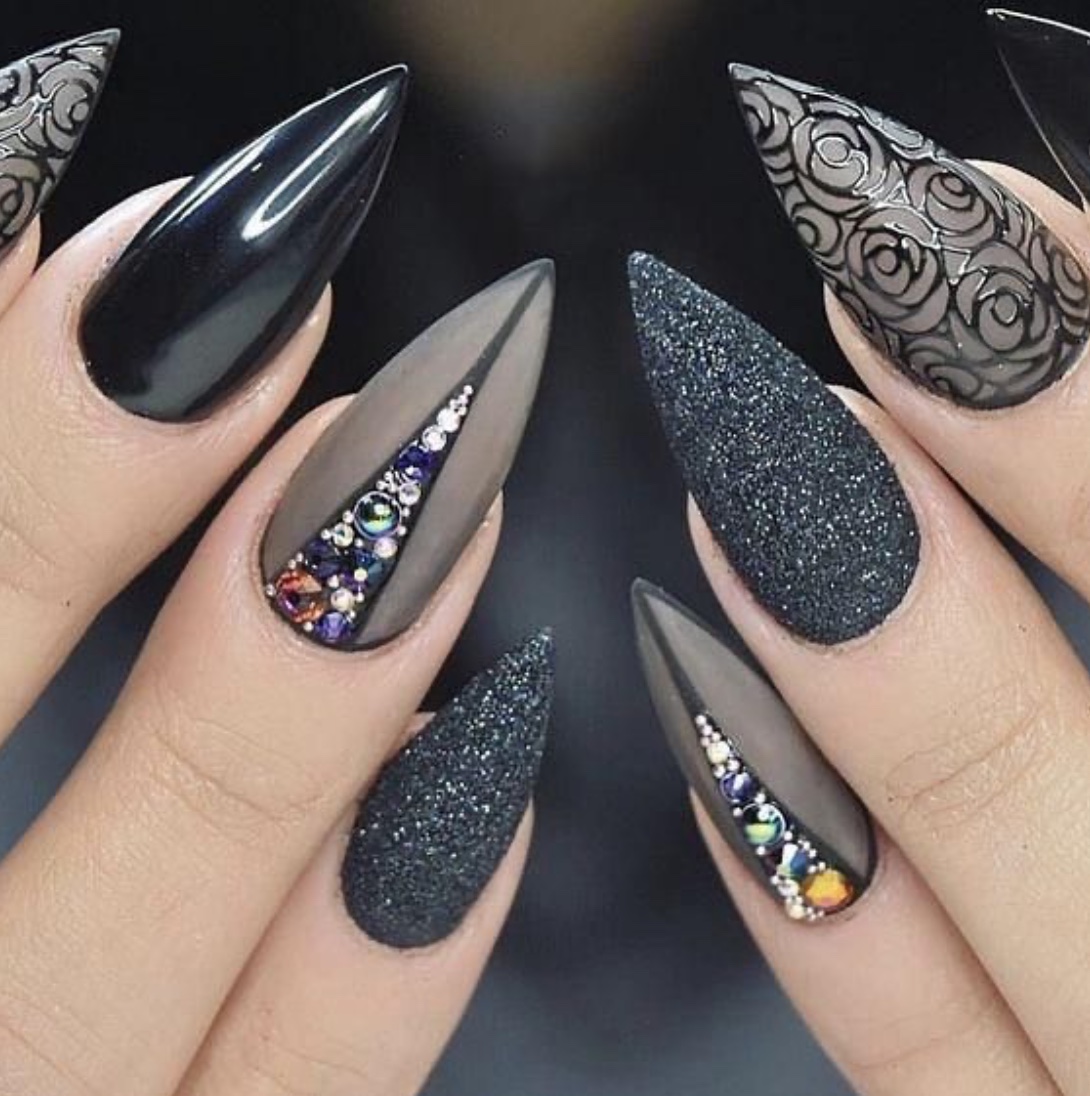 Floral shimmering nail designs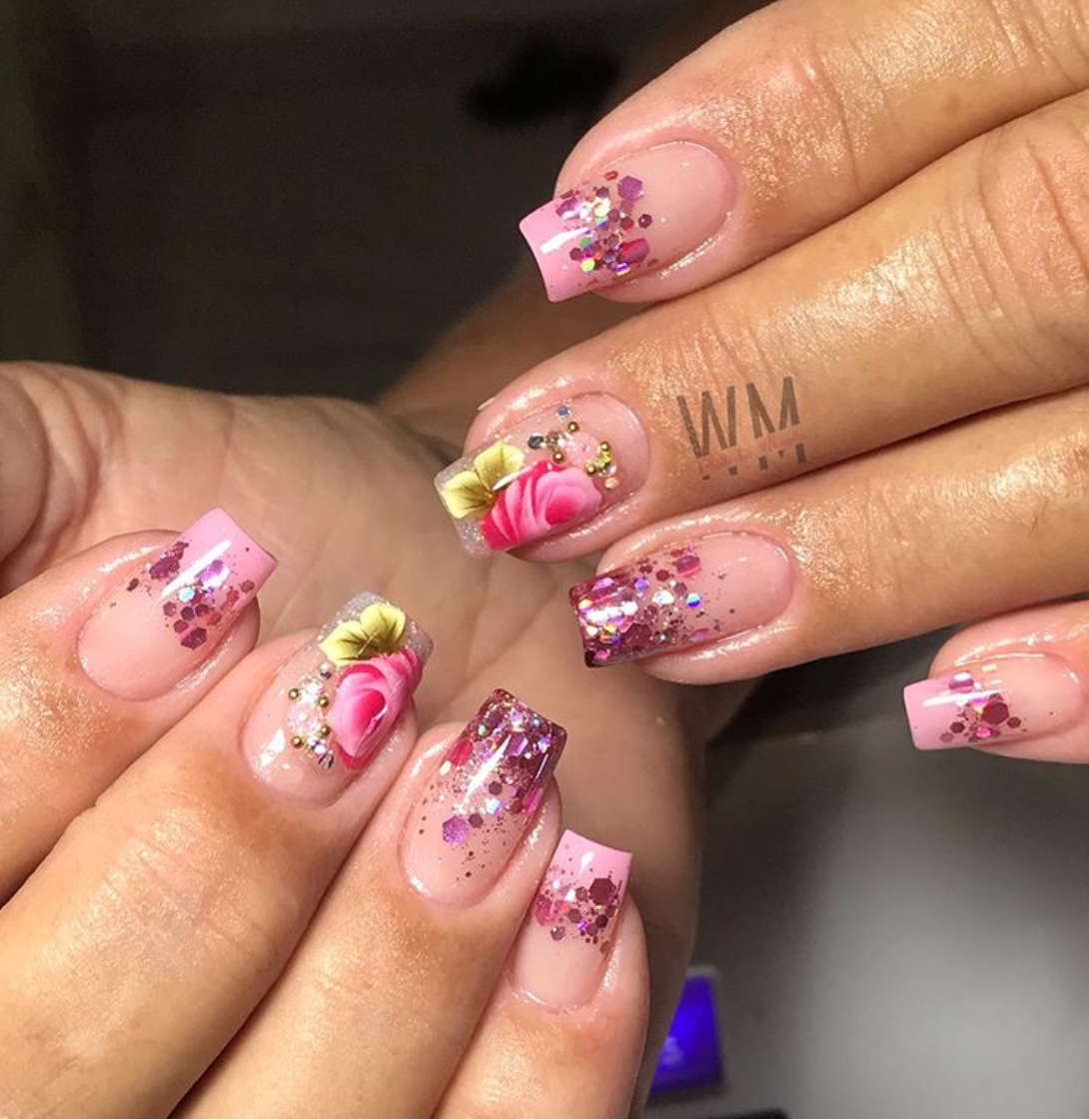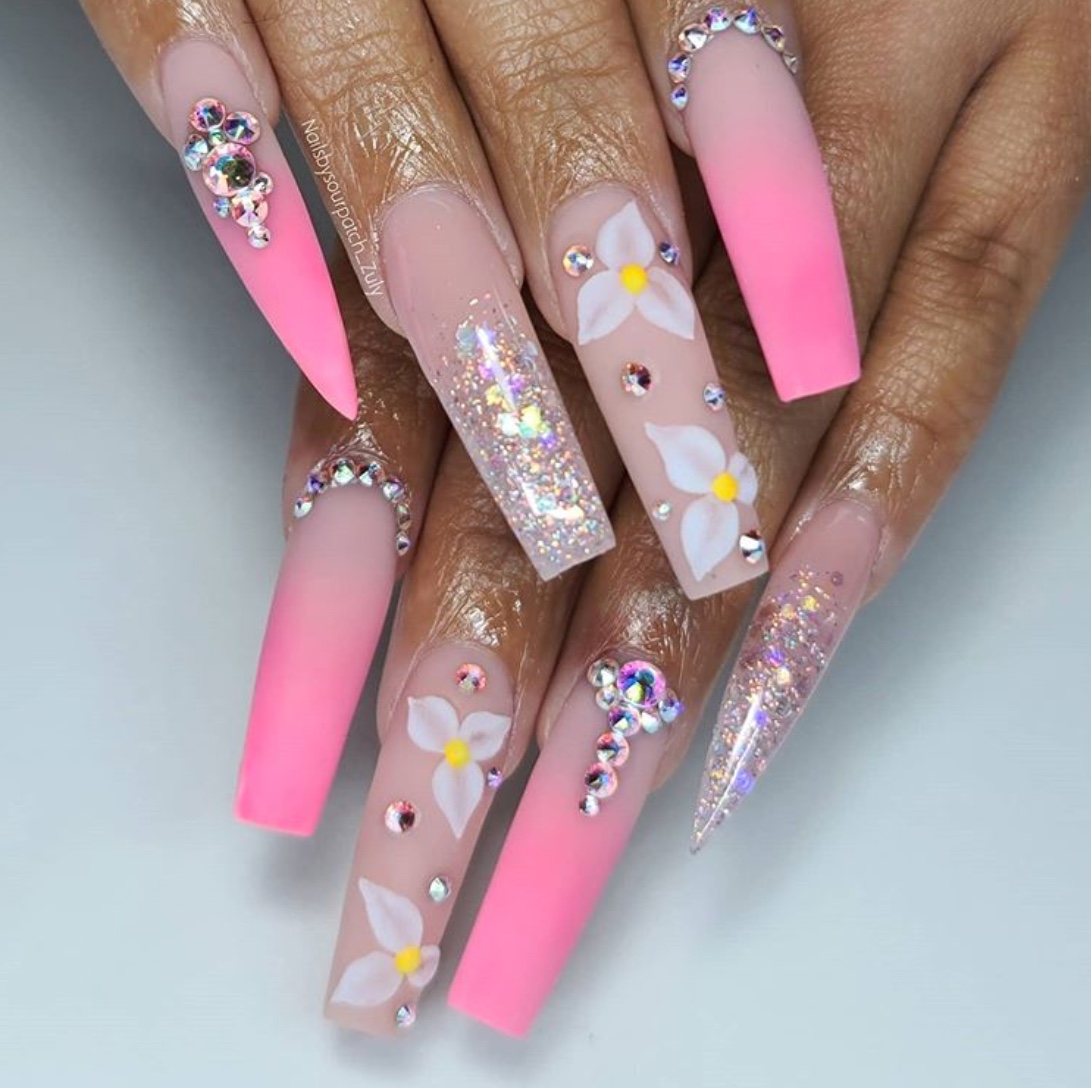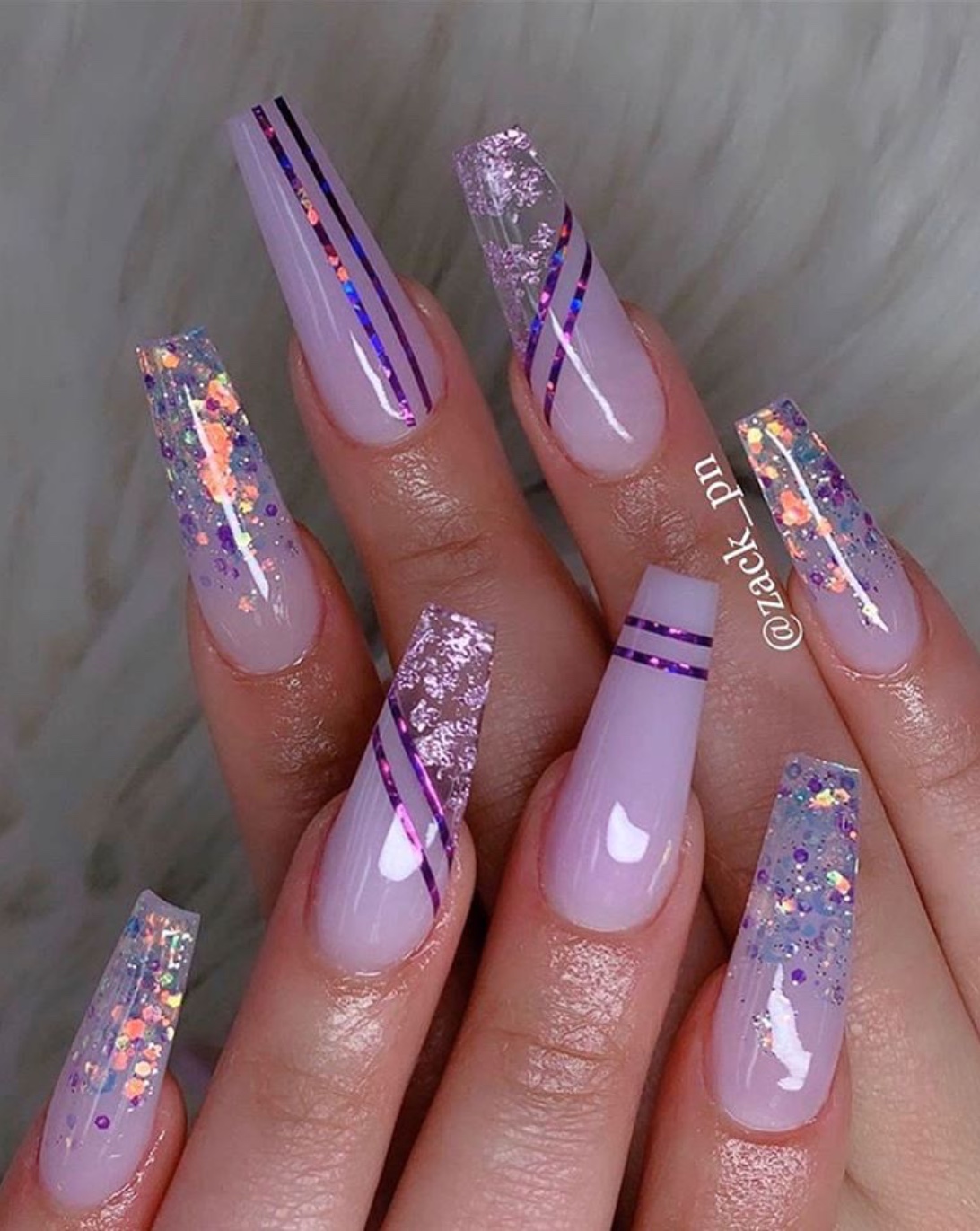 Blue nails with shimmer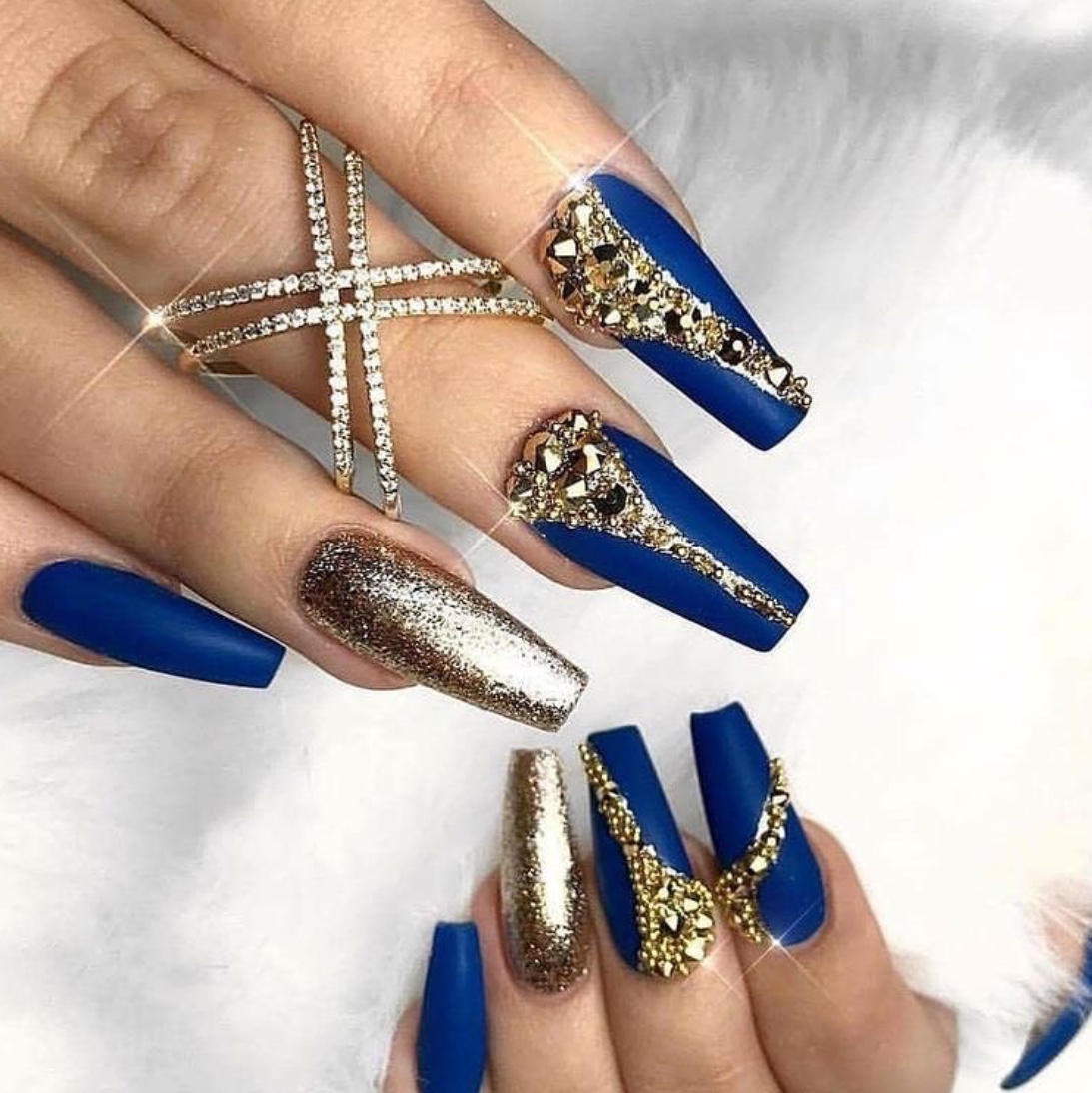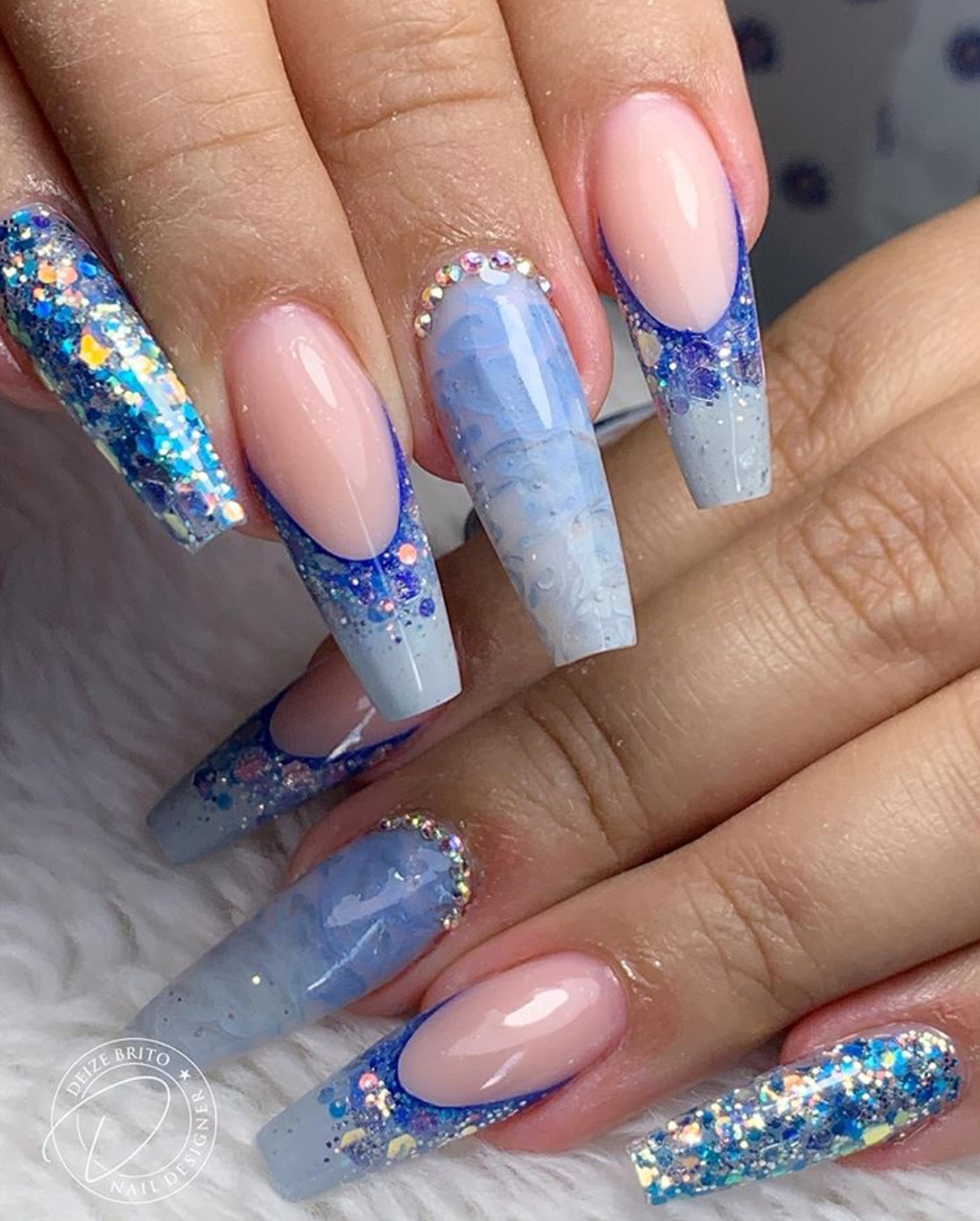 Pink nails with shimmer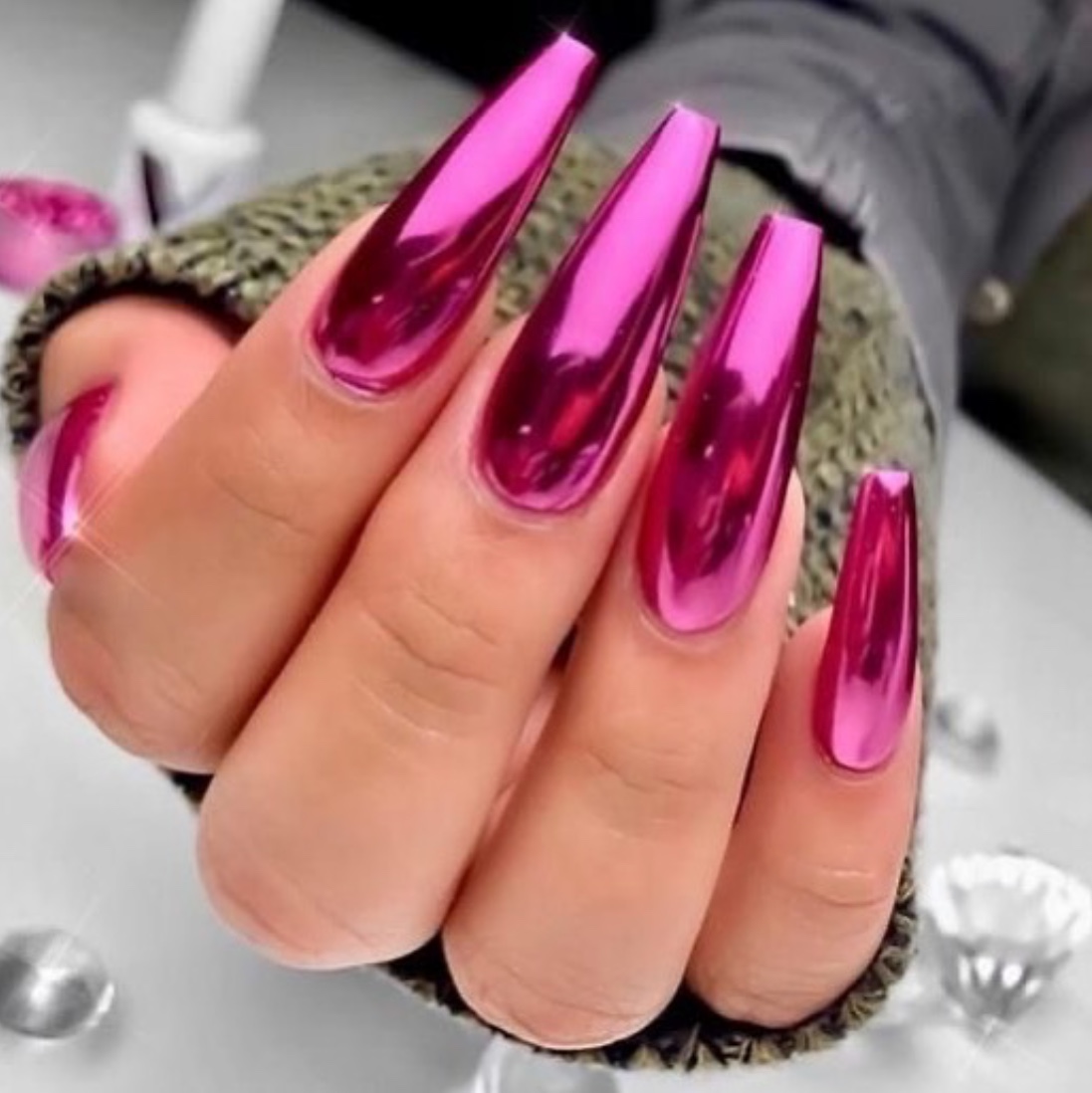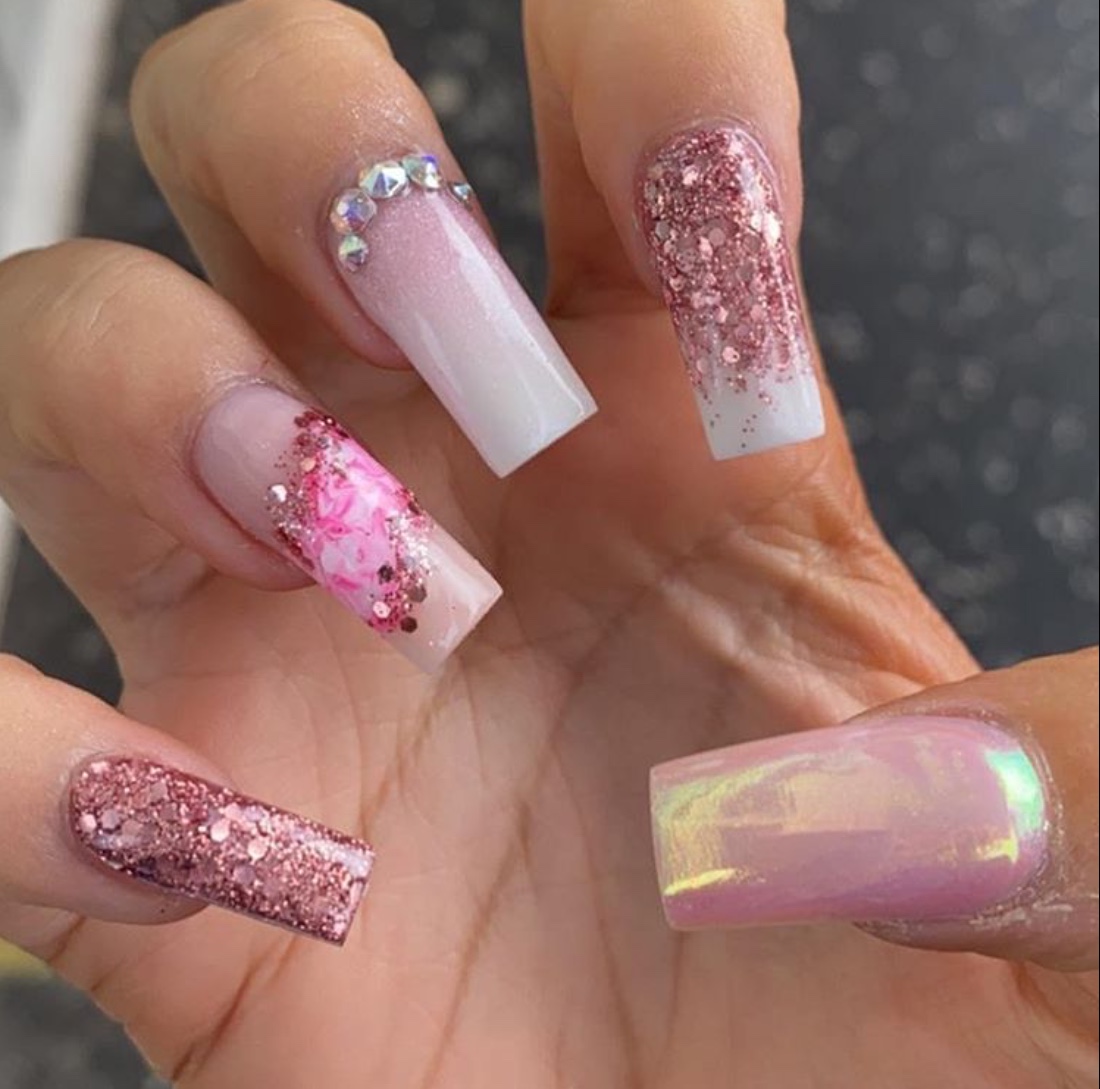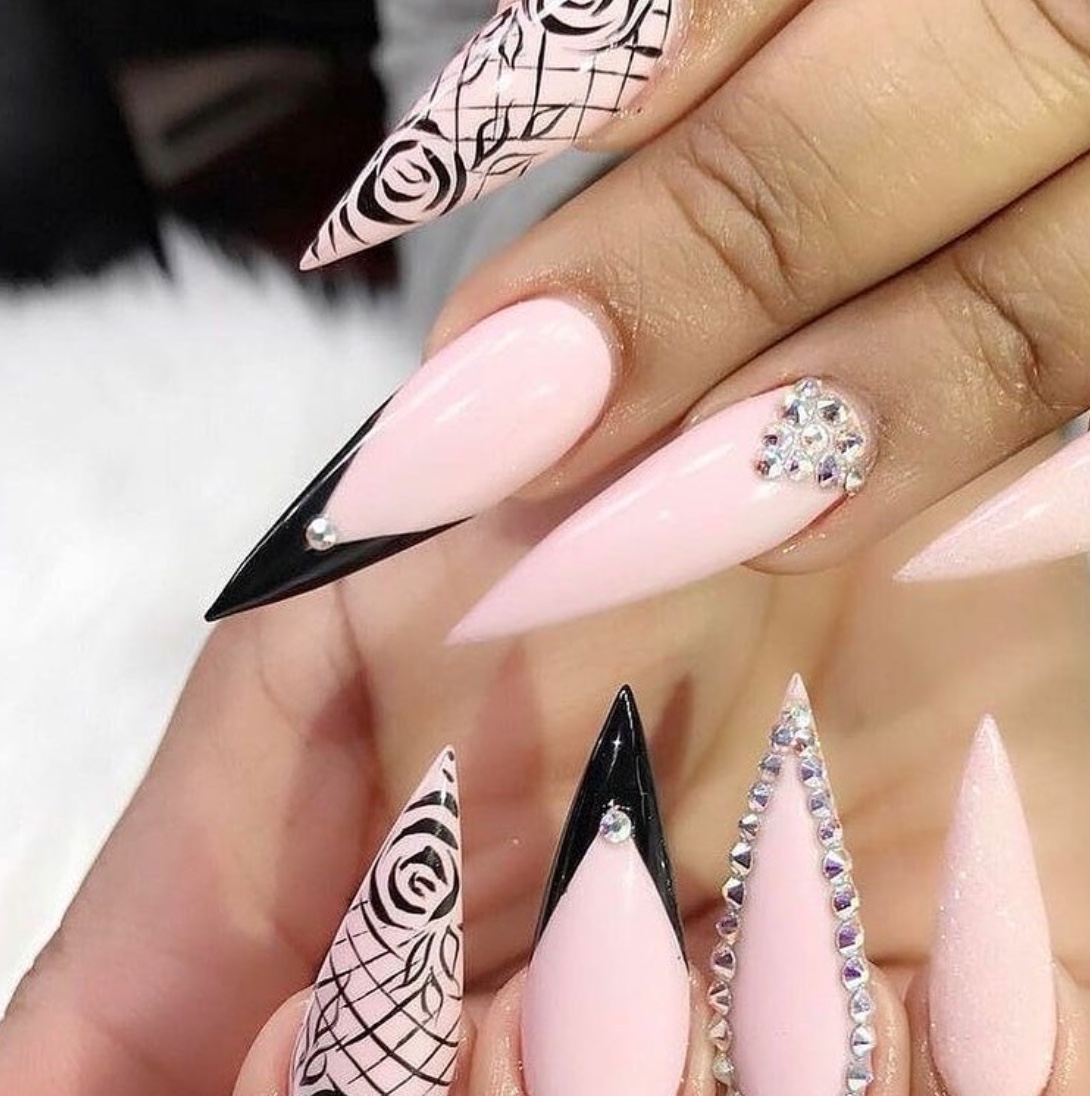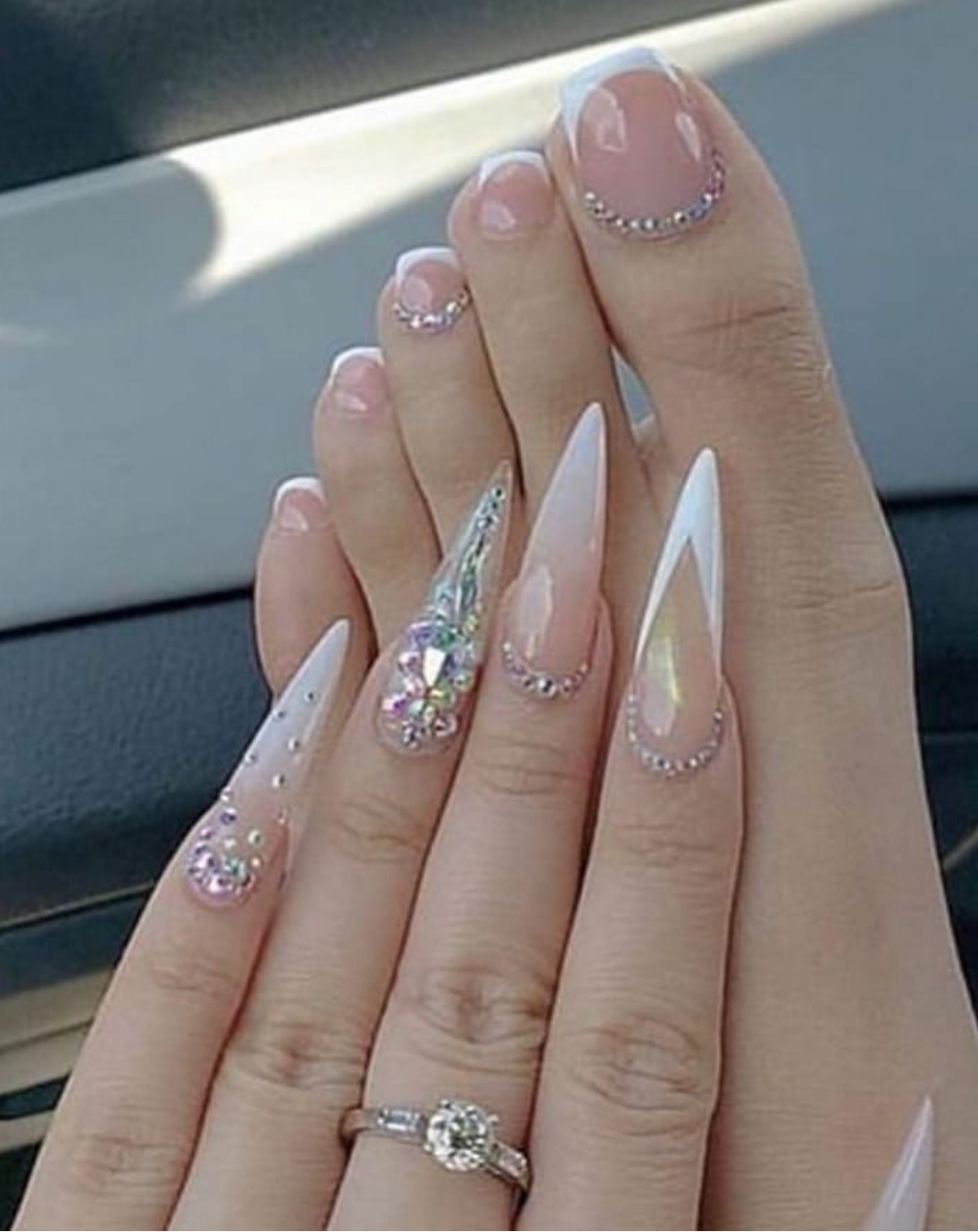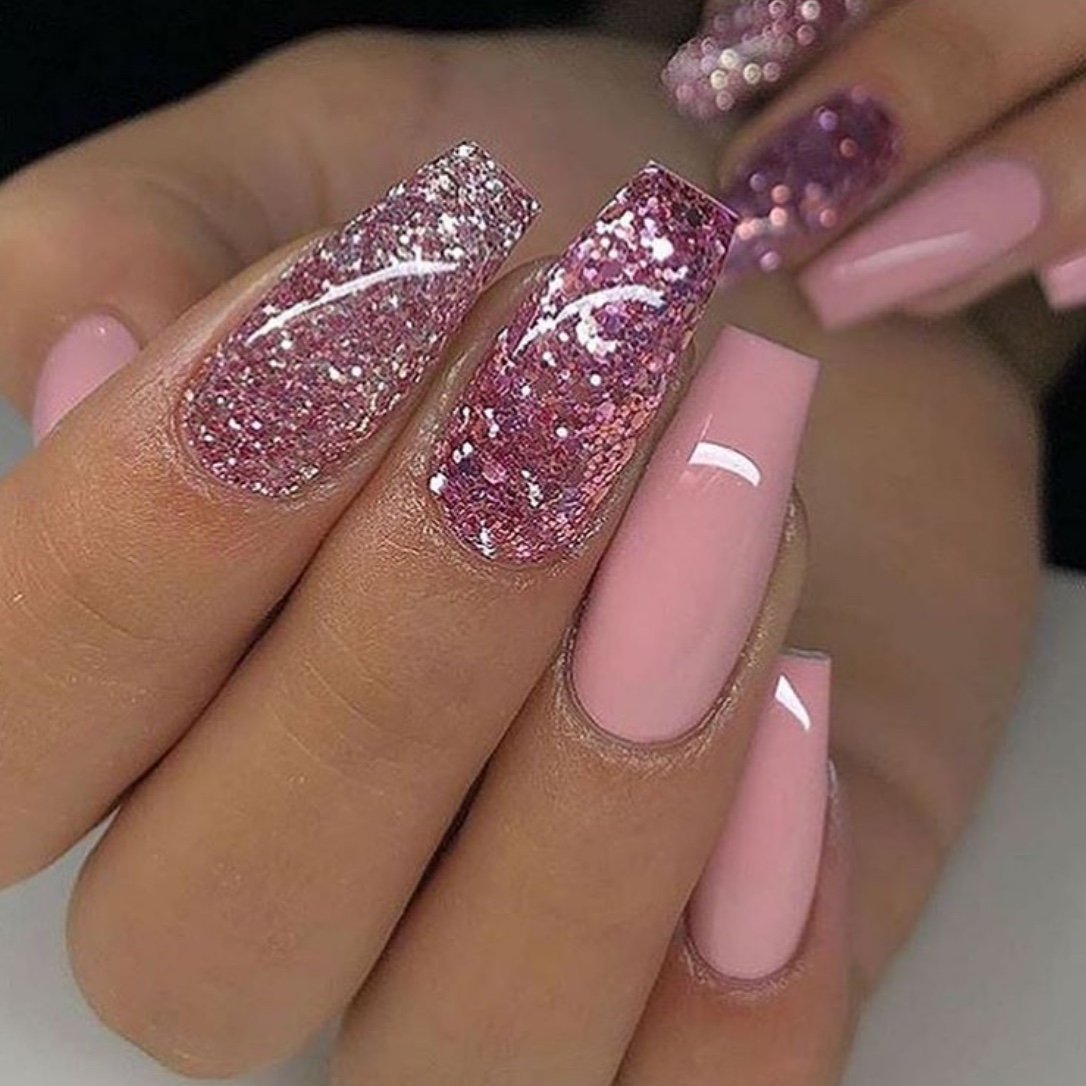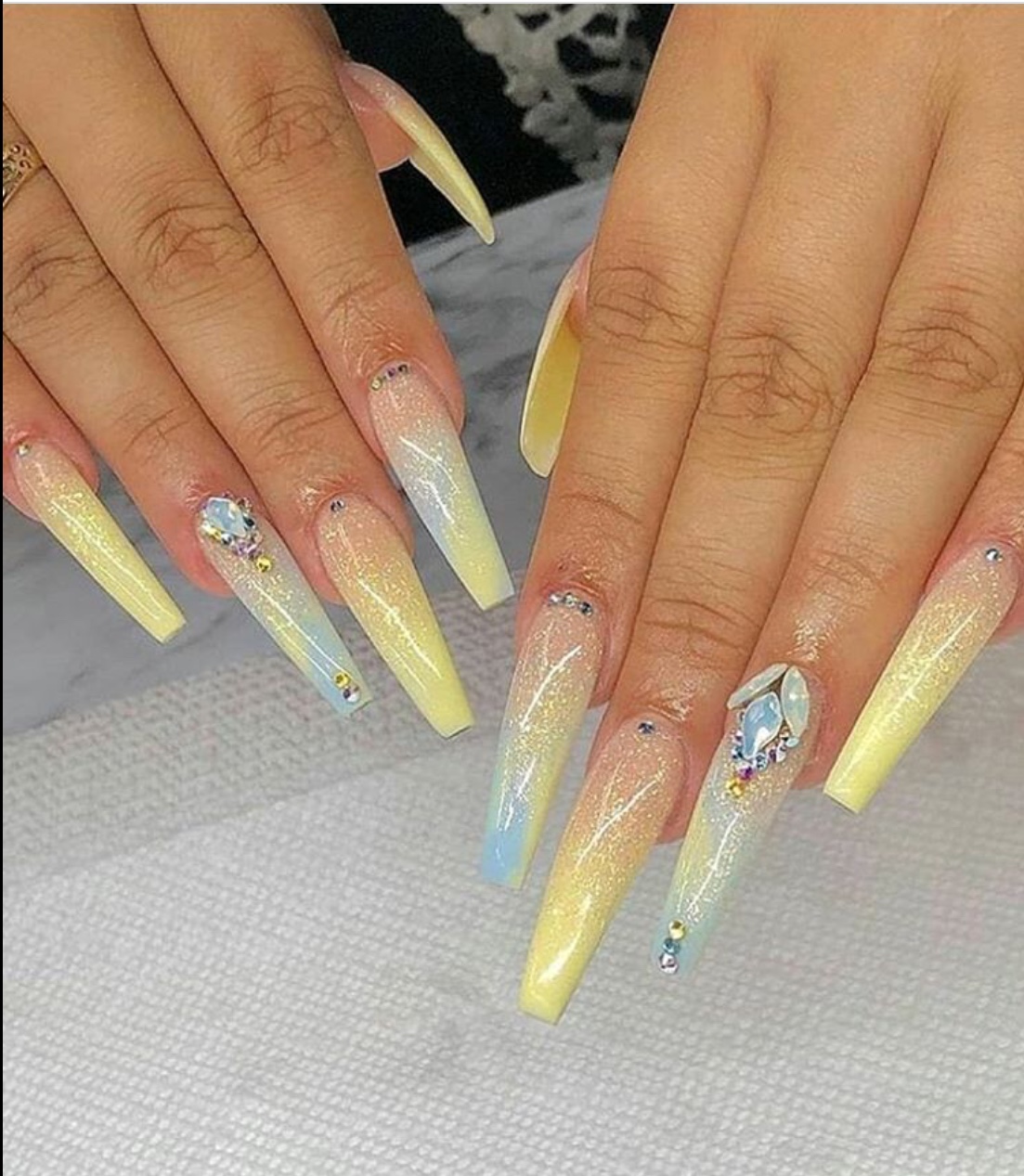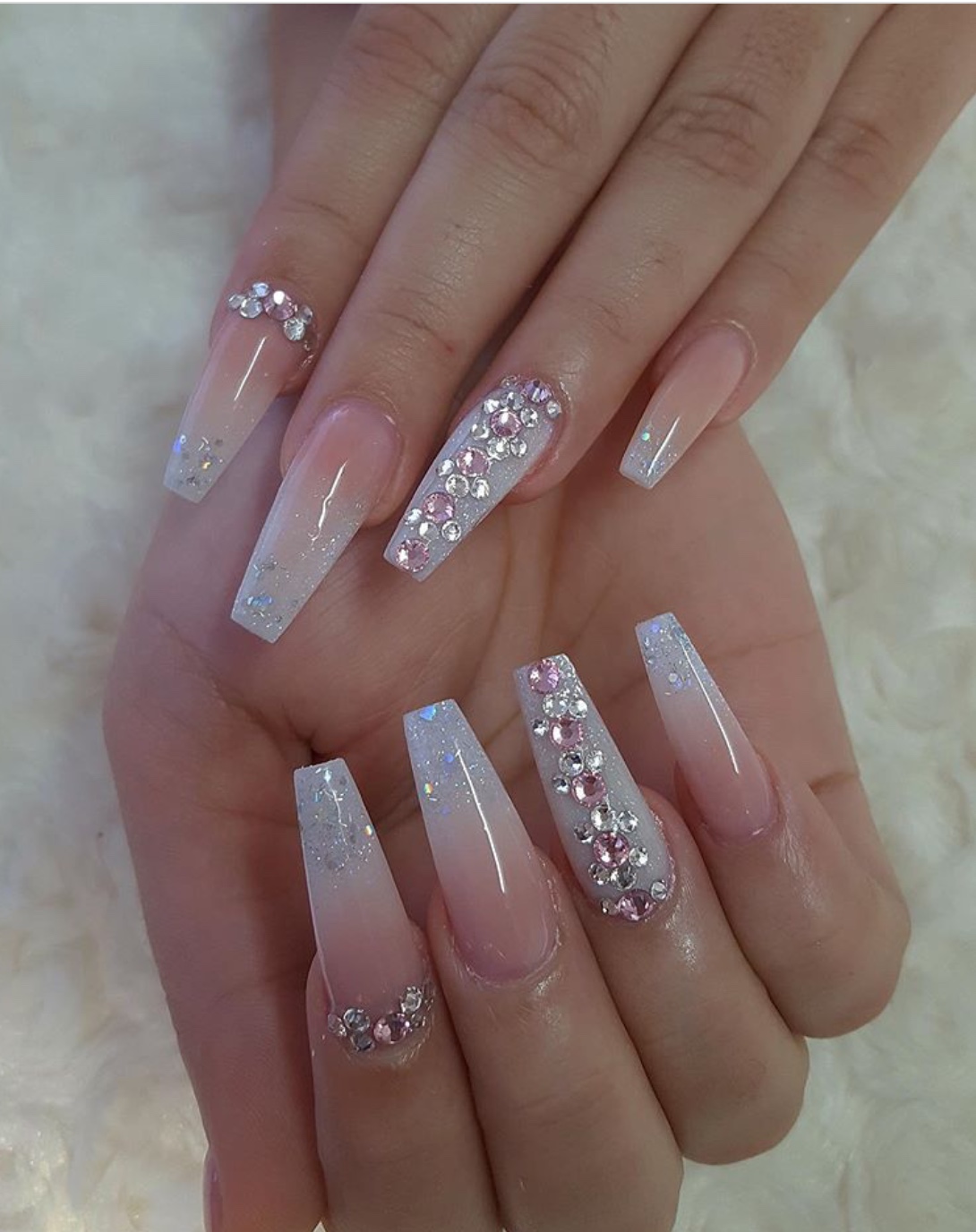 SEE ALSO:
40+ CLASSY NAIL DESIGNS
OVER 50 SUPERB WEDDING NAIL DESIGNS
11 OF THE PRETTIEST SUMMER TOE NAILS