Ombre nail design is a popular nail design that involves blending two or more colors together in a way that makes it look like one color faded into the other. This is a very creative nail design that adds glamour and flair to your manicure.
Ombre nail designs are just so beautiful. It's a simple way to wear nail polish without it being boring. Whether it is monochromatic or a combination of different colors, these nail color trends are just so glamorous.
Your ombre nail designs can be subtle or dramatic, depending on your preference or the occasion.
Below are some ombre nail designs to inspire you.
Ombre nail design ideas
French ombre nail designs
The French ombre is an updated take on the classic French nails. Whiles French nails feature two nail colors with distinct lines, the French ombre nails have the white tips seamlessly graduating into the neutral or soft pink hue.
It's a great nail design for everyday wear. You can take it to the office, to school or to a night out. And it complements all skin tones.
Whiles, it is okay to wear your French ombre nails like that because the design itself is gorgeous on its own, you can also add to the wow factor of this nail design by adorning the nails in some nail crystals and nail stickers.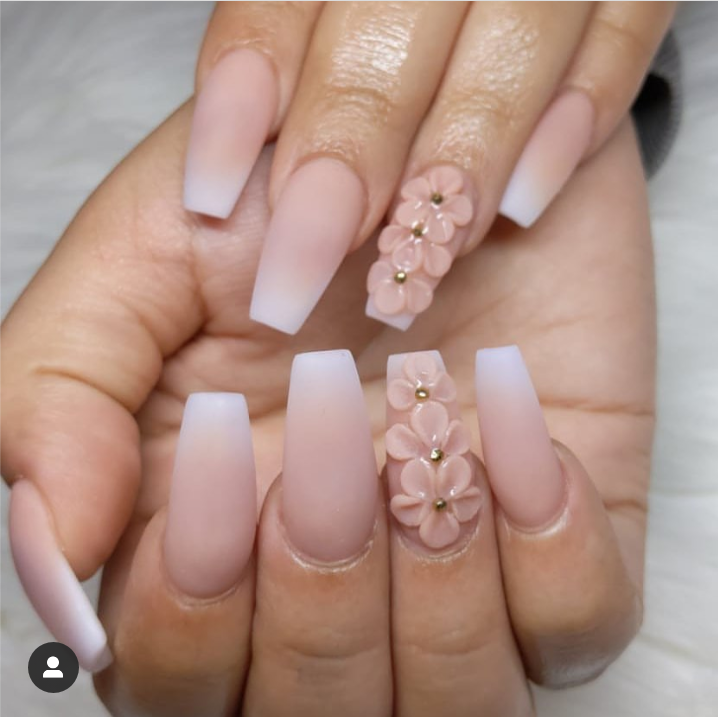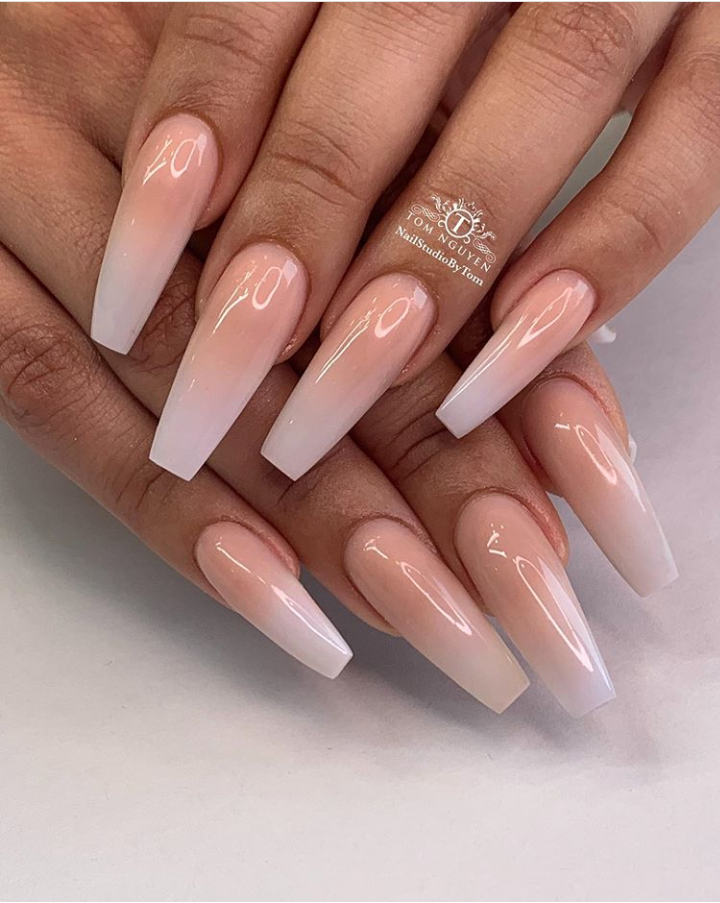 Yellow ombre nail designs
Yellow ombre will definitely look great for summer but you can try the darker shades of yellow for the cool months too. Yellow is a happy color and it will surely put a smile on your face.
You can go for neutral shade that transcends into lemon yellow or a creamy white nail that blends into a bright yellow shade. Try accessorizing your nails with some nail gems that complements your yellow ombre nails.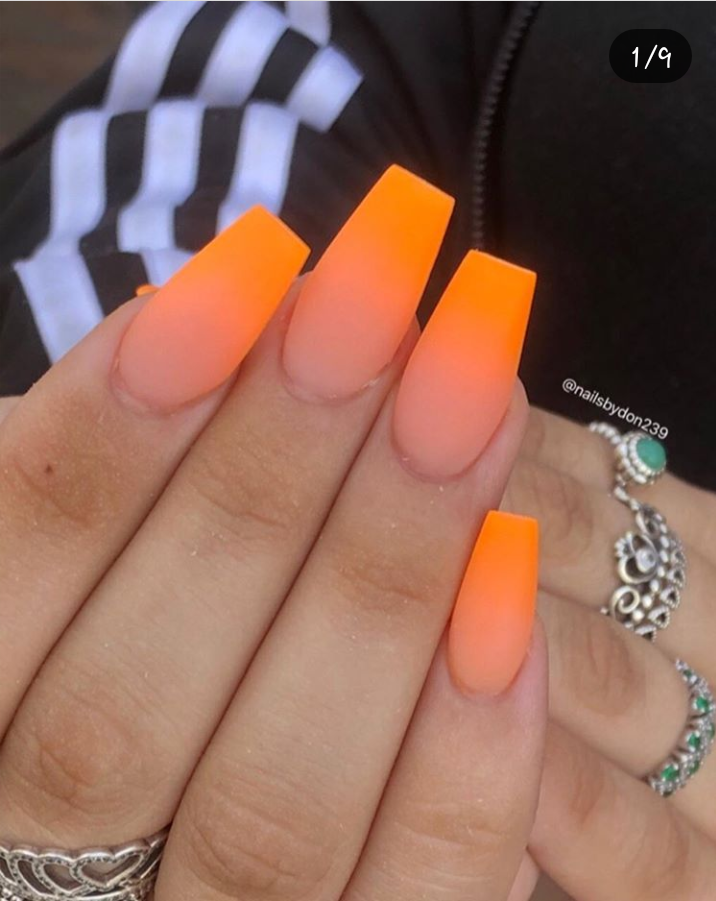 Green ombre
Mint green is one of the popular color choices for green ombre nail designs. But mint isn't the only way to go. You can try other pastel shades of green and even neon green too.
An ombre nail with mint green slowly fading into a neon green will look great for a spring nail design. Aside from the monochromatic green ombre look, you can also try green with other colors too.
Add a green glitter nail polish with tiny sprinkles to your green ombre nails. And accessorize with some nail rhinestones, not too much. Just an accent nail or two.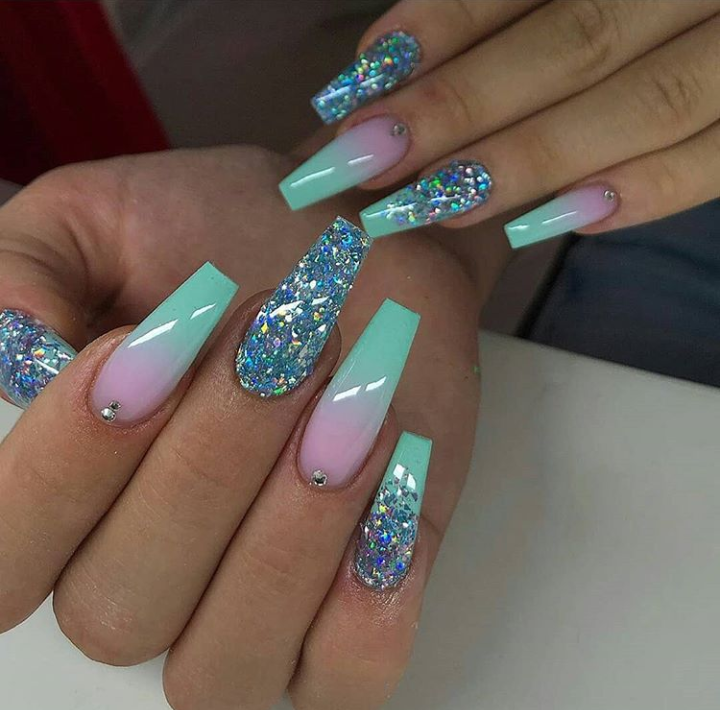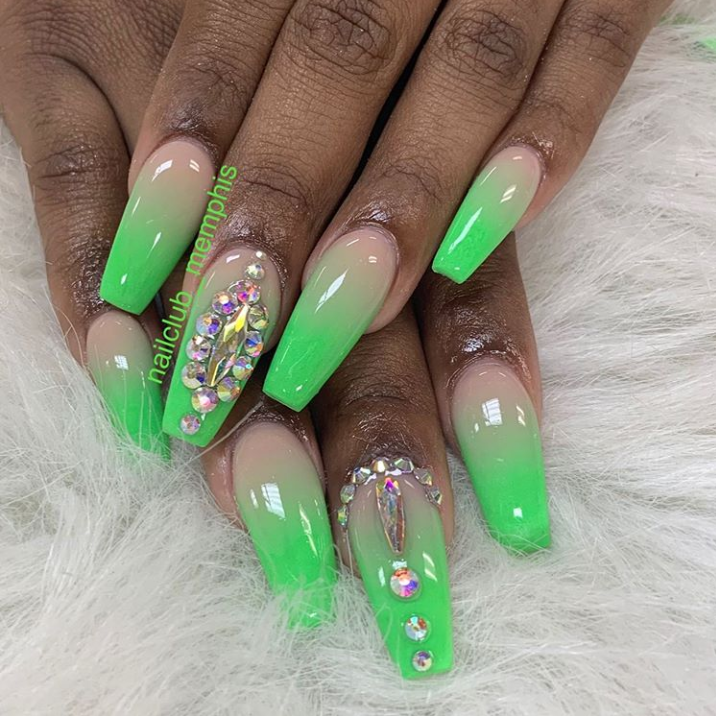 Blue ombre
Whether you want a darker shade of blue for the cooler seasons or you want bright blues for the summer, blue ombre nails are the perfect way to go.
For a mesmerizing nail design with blue ombre, pair the blues with pink. Pink nails are sweet nails that complement summer. But if you are ever unsure what nail color to pair with your blue, you can try nude polish. Nude nails are always in season and blend well with every nail color.
Don't forget some embellishments for your blue ombre nails. You can go over the nails with a subtle glitter polish or embellish the nails with tiny nail rhinestones. For summer nail design, try adding some butterfly stickers to your nail design.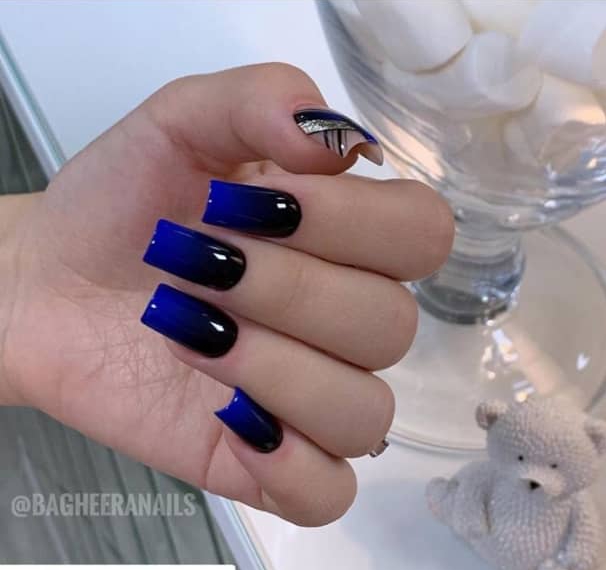 Pink ombre nails
Pink ombre nails are just so gorgeous and there are different shades of pink to choose from. You can work with two or three shades of pink, ranging from pastel pink shades to darker hues. The pink color is a very feminine and lovely color.
For example, a soft lighter shade of pink will seamlessly blend into a darker hue like magenta. But if you don't want a blend of soft pinks and darker gradients, you can simply go for different shades of soft pink and blend them together.
Something like a soft pink and creamy white ombre nail design will look great for a wedding nail or even a baby shower nail. Really the possibilities are endless.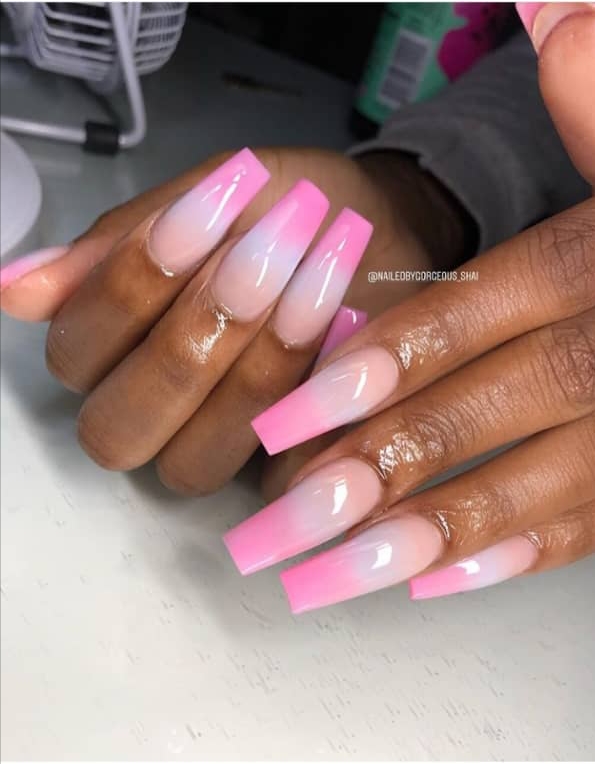 Red ombre
Red ombre nail designs are lovely and they will look great for Christmas nails or even Valentine nail art. But these two occasions aren't the only seasons for red ombre. You can wear your red ombre for a night out or for a romantic evening. Red nails are bold and alluring, making them perfect for a date night.
Grey ombre nails
Grey ombre is also an elegant nail design to try. You can go for a monochromatic effect by using different shades of grey. Or you can try grey with other nail colors. Ombre nails have a way of making two totally different colors complement each other.
An example is this nude and grey ombre nail design below. Although they are two completely different shades they blend well into each other to great an excellent nail design with a sparkle.
The article may contain affiliate links and I may earn a little commission if you purchase through my links but this is at no extra cost to you.