Pairing the right kind of shoe with your outfit can elevate your look instantly. When it comes to fashion, there are few better ways to make a statement than by wearing clear heels with rhinestones.
Clear heels with rhinestones have made their way into your wardrobe from fashion ramps due to their sophistication and elegance. These sparkling shoes add an extra touch of glamor and elegance to any outfit, making them perfect for special occasions or just a night out on the town.
Whether you're looking for something subtle or something that will turn heads, clear heels with rhinestones are sure to do the trick.
On the other hand, the combination of rhinestones with clear heels is extremely subtle. Wearing them will eventually make you turn heads by going overboard with your fashion choices.
So in case you are planning to give beautiful clear heels with rhinestones a try, please have a look at the pointers mentioned below.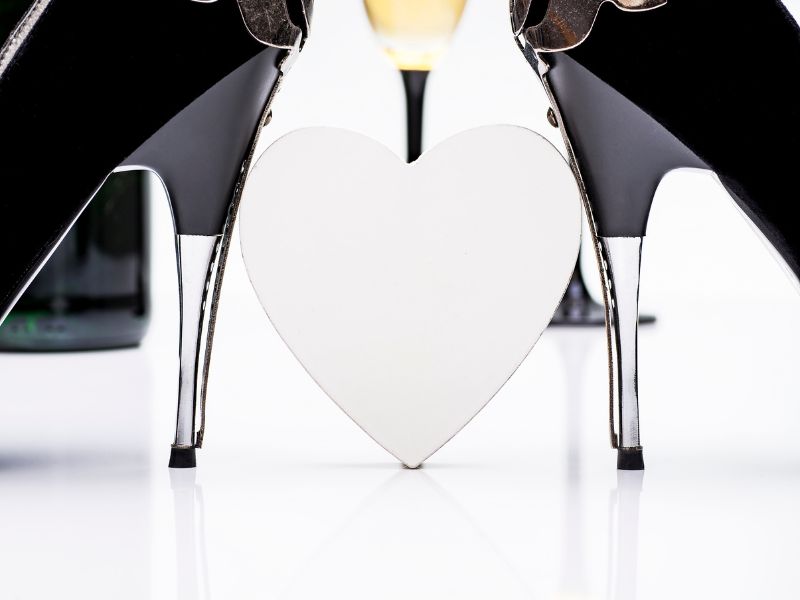 A Brief History of Clear Heels
The idea of wearing transparent shoes dates back centuries. In the late 1800s, women wore delicate slippers made from silk and glass beads that were often decorated in intricate patterns featuring rhinestones. Today's modern version of these elegant shoes has come a long way since then, but they still retain their timeless appeal. Sophisticated clear heels with rhinestones can even elevate your boredom.
Types of Clear Heels
Today there is no shortage of styles when it comes to clear heels with rhinestones. From stilettos to wedges and flats, these eye-catching shoes come in all shapes and sizes, so you can find the perfect pair for your look. You may also want to consider the type of material used for your clear heels, as this can affect both their appearance and comfort level while walking or dancing in them.
For example, PVC is lightweight yet durable enough for everyday wear while acrylic offers superior strength if you plan on doing more intense activities like running or jumping around in them. So choose the material according to your usage and preferences.
How To Wear Clear Heels With Rhinestones
When it comes to styling your clear heels with rhinestones, keep it simple and let the sparkle do all the talking! Try pairing them with solid colors such as black or white so that they really stand out against an otherwise neutral ensemble. Or go bolder by mixing different textures like velvet or lace into your look – this will create an interesting contrast between softness and shine!
If you're feeling daring, why not try matching your jewelry pieces (earrings/bracelets) to your shoe color? This will draw attention up towards your face, which makes for a great photo opportunity too.
A pro tip: in case you are going for that hottest party in town, pair your clear heels with rhinestones with neon pink outfits or bring out an ensemble with bright colors or bold prints. This is going to make you turn heads for sure.
Related Posts
Tips To Care For Your Clear Heels With Rhinestones
If you want your clear heels with rhinestones looking their best at all times, then proper care is essential. Start off by wiping down any dirt or dust before storing away using a damp cloth – this helps prevent scratches from happening during storage time.
When wearing them outside, be sure not to rub too hard against surfaces as this could damage both the heel itself as well as any stones embedded within it. Lastly, remember that although these types of shoes are quite delicate so, always handle them carefully when putting on/offering them – no one likes having broken toes due to mishandling their favorite pair.
Conclusion
Clear heels with rhinestones truly elevate any look, whether it's casual day wear or formal evening attire – making them a must-have item in every wardrobe! Not only do they offer a unique sense of style, but they also provide comfort thanks to modern materials being used today for creating a beautiful balance between fashion and functionality.
So next time you're looking to switch up a traditional shoe game, why not give these dazzling stunners a try? We promise we won't regret taking a chance by adding a little extra sparkle to life!