Want some bunny nail designs for easter? Then browse through our collection of cute and adorable bunny nail designs.
Bunny and florals
This is a fun and bright yellow nail design. It includes a white bunny on one of the nails and then a floral nail design on another. The other 3 nails are just plain yellow with no designs.
---
Bunny and polka dots
Three colours stand out in this easter bunny nail design. White, pink and yellow. Two of the nails have a white background with polka dots. The other three have a bunny on a clear background with polka dots around it.
The colour that stands out in this design is pastel pink. One of the nails has white polka dots and there is a cute bunny accent on another nail.
Two pink nails, one white nail and two blue nails. The white nail is designed with pink and blue polka dots and one of the blue nails has a bunny face on it.
Here we have an adorable bunny face on one nail and polka dots on another nail. Then wavy lines on the other nails.
---
Bunny heads and bunny ears
With this design, the right nails have brown and grey bunny ears on a pink background and the left fingers have grey and pink bunny heads on a pink background
---
White bunny on pink
This is such a simple design that you can actually do for yourself. White bunny ears on a pink nail with black dots.
Pastel nails and bunny face
This design uses pastel pink, pastel yellow and grey. We have here 2 nails in pastel pink and two nails in pastel yellow and a bunny accent on one. The bunny has all three colours.
Here all the nails are painted in different pastel shades, all designed with zigzags and horizontal stripes. But there's an accent nail with just the top of the bunny face. So only the eyes and ears are showing.
---
Bunny and french tip
This is a pink and white french tip nail design. With a brown bunny accent on one nail.
White bunny and gold glitter
Use different shades of pink as your canvas and add some gold glitter polish to glam it. On the accent nail is a cute white bunny.
---
Pastels, bow and bunny ears
All 5 nails are painted with different pastel shades. One of the nails have a pink bow sticker on it and another nail has white bunny ears painted on it.
---
Bunny, chicken and florals
Here we have a yellow background for all the nails. With chevron pattern on one of the nails, mama bunny on another, papa bunny on another nail, an easter chicken with the words happy easter on top and the last nail has some round flowers drawn on it.
---
Bunny, hearts and glitter
Here we have pink nails. With little white hearts on one, a bunny on another and pink glitter on another.
---
Black and white bunnies
This nail design looks so simple yet chic. All the nails have the same designs with black and white bunny designs.
---
Cute bunny face
This is yet another simple design you can do for yourself. White nails with cute bunny face on them.
---
Bunny and florals
This is a beautiful lilac nail. With bunnies on two of the nails and a sunflower on the other nails.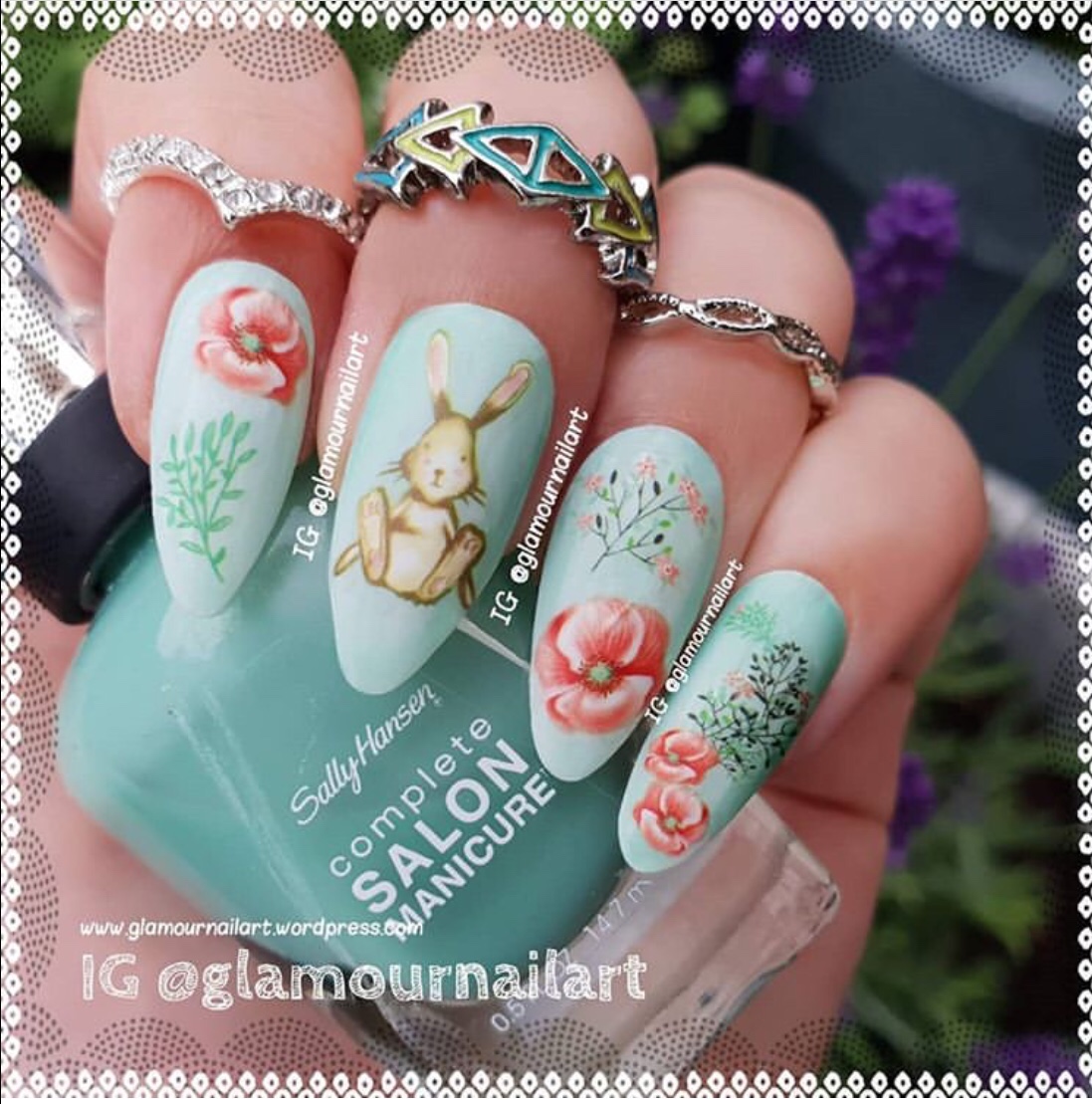 Another bunny and floral nail design. In this design, all the nails have some cute floral art but there is an accent bunny design on the 3rd nail.
---
Brown bunny family and leaves
With these, we have some leaves on the nails and then there are two nails with a brown bunny family.
---
Brown bunny with glitter
Another cute brown bunny accent nail. With silver glitter polish on another nail. And then a pastel pink shade on the three other nails.
---
Purple bunnies
With this design, each of the nails has a different colour and two of them have purple bunnies on them.
Bunny and carrots
As we all know, bunnies love carrots. Here the nails are designed with carrots and then there's an accent nail design with a bunny holding a carrot.
Beauty lilac nails with a rabbit face on two of them and carrots on the rest.
Another cute bunny and carrots design. Here we have a carrot, bunny ears and bunny face.
---
Cute rabbit and fox
Here we have cute bunny faces on one nail, a fox face on another nail, a cute rabbit and then a cute fox.
---
Bunny, stripes, polka dots and bow
This nail design looks so fancy. There's polka dots with a bow, stripes, a cute bunny(which reminds me of Clover, the bunny in Sophia the first) and the nails are accessorised with some cute nail studs.
---
Hanging bunny
How cute are these hanging bunnies? With this nail art, the bunnies are hanging on a line with clothepins.
---
Bunny and bow
Another cute nail design, with a bunny face. I like how the teeth of the rabbit stand out in this art.
---
Eggshells and bunny ears
Here, adorable bunny ears are drawn on top of the nails. And two of the nails have an eggshell canvas to represent easter eggs.
---
Neon
Bright nail designs are a must in spring. So this Easter, try neon green nails and add a touch of Easter by including an accent bunny.
---
Pink glitter and white bunnies
This is a very pretty shade of pink glitter polish. And it is designed with some cute bunny stickers and a heart too.
---
Pastel blue and bunny face
Blue pastel nail with some adorable bunny faces on it.
---
Blue nails with bunnies
I like how each of the nails has different bunny designs. It makes it very beautiful.
---
Orange nails with a bunny
Bright orange nails with an accent bunny.
---
Bunny and heart
Beautiful grey and lilac nail. With a heart on one nail and a cute bunny on another nail.
---
This looks simple yet very beautiful. Two colours are used here. Pastel green on four nails and pastel yellow on the accent nail with a bunny.
---
Red
Beautiful red nail polish with an accent bunny.
---
Pastels and bunny ears
Different pastel shade on all the nails and each designed with bunny ears.
Bunny with a bow
Green and blue nails with a cute rabbit ear with a bow on it, so adorable.
Bunny and grass
I like this design. There's a field of grass. One grass has easter eggs on it. Another grass has bunny ears and a bunny in the grass.
Floral bunny
The ombre design is beautiful but what stands out here is the dry flower stickers used to design a bunny.
Green nails with studs
Green nails with a bunny face and some nail studs
Pink and bunny ears
Pretty pink nails with some cute and adorable bunny eyes and ears.
Blue nails, polka dots and bunny
Another blue nail design with polka dots and cute bunnies.
Black bunny ears
This nail design reminds me of french tip nails, except here, it is a bunny tip. So we have nude nails with black bunny ears on the tip.
SEE ALSO:
70+ STUNNING SPRING NAILS FOR 2020
40+ DRIED FLOWER NAILS FOR SPRING
30+ POLKA DOT NAIL DESIGNS
This article may contain affiliate links and I may earn a little commission if you purchase through my link. But this is at no extra cost to you. See here for images disclaimer