So, you are in a new relationship and thinking that you might have found your eternal soulmate, and are wondering if it is too early to shower them in their favourite jewellery.
Giving jewellery suggests a long-term commitment, as a ring, bracelet or necklace is something that can be worn forever, not to mention the traditional connection with jewellery and permanent relationships.
If you want to buy her something special, but are terrified of sending out the wrong message, here are a few pointers to help you get it right.
When should you give jewellery
Valentine's Day
The lover's festival, Valentine's Day is a popular proposal date, but if you are within the first year of your relationship, shelve that until next year.
If the relationship is less than 6 months old, something like designer silver jewellery from the reputable Silver By Mail would be ideal. This leading UK online jeweller has a vast array of designer silver jewellery at affordable prices and there are always special offers running.
A silver locket necklace like this etsy.com/listing/660939540/lariat-necklace-vivienne-dainty-y-cubic or chunky bracelet would be more than suitable for a young and blossoming relationship, as this does not cross that line, so to speak.
Christmas
Christmas and New Year are both ideal times to hand your fiancee a stunning silver charm bracelet, and by adding a charm or two every year, she will gradually build up quite a collection.
Of course, the big worry is to infer more commitment than there actually is, so unless you are both talking about your future, avoid giving her a ring of any kind, at least for the first year.
For more tips on giving jewellery in a young relationship, there are articles you can find online that will provide you with further information on the matter.
Birthdays
These are perfect times for giving birthstone jewellery. And with the fine jewellery available from reputable online jewellers, finding something perfect is not an issue.
Bracelets and necklaces are also suitable as birthday gifts, with sterling silver being the best choice. Avoid overly expensive items, at least for the first year of the relationship
Demonstrating Commitment
There are times when it is appropriate to take the relationship to another level. And if you are both talking about a future then an item, like a piece of silver designer jewellery with personalized message on it is a great way to take the relationship to the next level.
Note Your Partner's Taste In Jewellery
It isn't just about timing, one must also take into account personal taste in jewellery. So take a good look at what your partner wears on a daily basis and work your choice around that.
Does she like bold and shiny jewellery? Or is she the kind of girl who likes subtle hints of colour with her outfits?
Answering questions like these will ensure that you make the right purchases. And if she wears the item when not in your company, you can be sure she really likes it.
What used to be a laborious task is now easy with online designer jewelers. You can browse collections in the comfort of your own home.
Just make sure you don't send the wrong message and the relationship will blossom naturally.
SEE ALSO: 
FIND THE PERFECT ENGAGEMENT RING
A GUIDE TO SILVER BRACELET SELECTION FOR THE SPECIAL LADY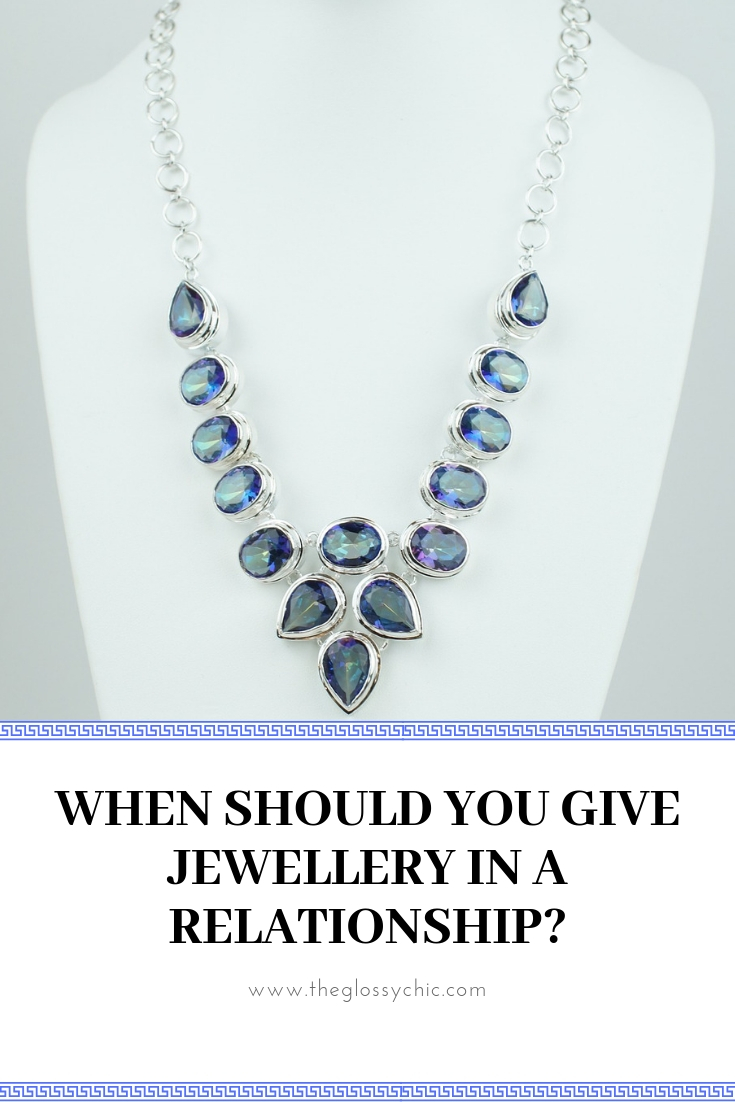 This article may contain affiliate links and I may earn a little commission if you purchase through my link. But this is at no extra cost to you.