I had it all planned out. Her second birthday was supposed to be all fun and happiness but things never go as planned. Yet still we are so grateful to God that our daughter is 2 years old today. He knows best and things could have been worse but by His grace and mercy, all is well.
The plan was for Kayla to have a pre birthday photoshoot on Sunday and on Wednesday, that is today, her birthday, have a little birthday party at school. But she woke up Sunday morning with a cough and we got ready for church. After church, I got her some cough syrup and we went home.
The photographer came in later in the afternoon to take the photos of her. But during the photoshoot, I noticed something was wrong. Kayla wasn't running up and down, she wasn't jumping and laughing. She just stood there with her arms folded on her chest. I tried to get her to laugh by saying things that usually get her laughing out loud but all I got was a faint smile.
I touched her and her temperature was high, she started crying so we had to stop the photoshoot. But we got some photos of her before she started crying. I realized it wasn't just a cough, my little girl was actually ill.
MORE ABOUT KAYLA: 

MY MATERNITY SHOOT

KAYLA'S NAMING CEREMONY AND DEDICATION

KAYLA'S FIRST BIRTHDAY
Her dad took her to the pharmacy to get her some drugs and we hoped she would be up and running the next morning. But we woke up Monday morning and she still wasn't well. So she couldn't even go to school. In the evening, she fell and hurt her lips, as if being ill and the cough wasn't enough for my little one. Tuesday morning we woke up and it wasn't any better so we took her to the hospital. And by God's grace, today, Wednesday, her birthday, she is doing better.
Kayla might not be feeling well today but she's alive and getting better, so that didn't stop us from celebrating her birthday today with her friends at school. Although we brought her back home.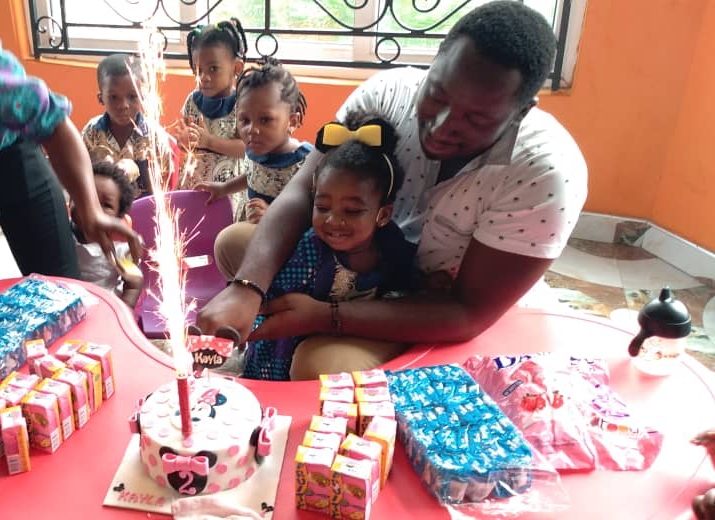 I thank God for adding one more year to your age, baby. May each day bring you renewed strength, a brighter smile and a happier you. May you grow into a strong, confident and intelligent woman. I love you, my Kayla.
Credits:
Cake by @cakestories.d
Photo by @endtimephotos
This article may contain affiliate links and I may earn a little commission if you purchase through my link. But this is at no extra cost to you.