With millions of internet users and billions of hours of video watched every month, YouTube might be the biggest social media platform out there today. Why not use that massive audience to your advantage? After all, if you're already posting videos on your website or other social media channels, why not ensure they're optimized for YouTube search?
A YouTube channel can be great for your business as long as you get everything set up the right way from the beginning. You want to provide high-quality content that's relevant to your audience, and you want people to be able to easily find your videos when they search for particular topics or questions.
If you take the time to optimize your YouTube channel and video postings from the start, you can help ensure that everything runs smoothly and achieves its goals as far as exposure and engagement go.
Benefits of Optimizing YouTube Videos for Business
Some benefits of optimizing YouTube videos for business are as follows:
It can help you increase your rank in search results, making it more likely that potential customers will find and watch your videos
A well-optimized video can also help you build brand awareness and establish trust with potential customers
It can help you drive traffic to your website or blog, which can lead to increased sales or leads
It may help you increase the number of views on your videos by increasing the number of people who subscribe to your channel or like and share your content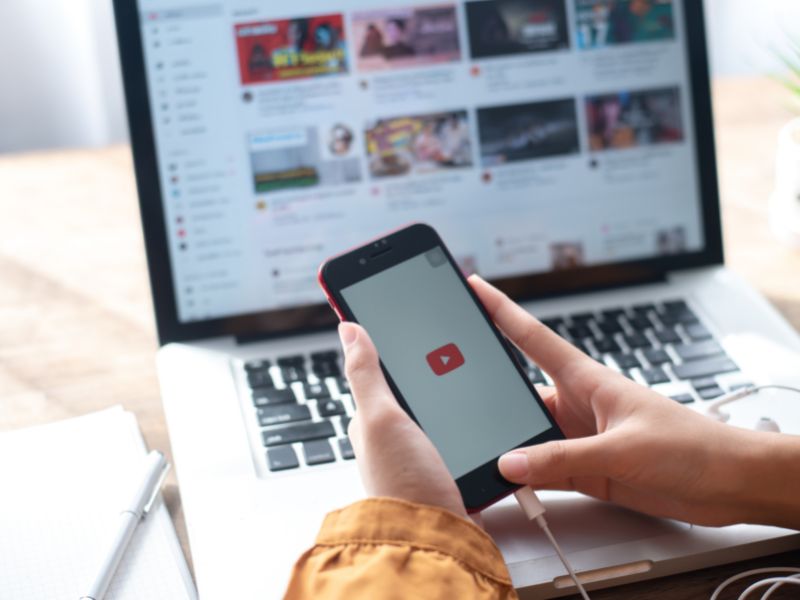 Optimize YouTube Videos for Business
YouTube is a powerful marketing tool for businesses. You need to optimize your videos for search and conversion to make the most of them. Here are five tips for you to do just that:
1. Generate New Content Ideas
Here are some tips to generate new content ideas for your YouTube videos:
If you want to optimize your YouTube videos for business, start by creating engaging and informative content that will appeal to your target audience
Make sure your videos are well-organized and easy to navigate so viewers can find the information they're looking for quickly and easily
Use keywords and tags judiciously to ensure your videos come up in relevant searches; consider using a video sitemap if you have more than 100 videos
Test different thumbnail images before uploading your video to see which one is most appealing to your audience
Include links within the video or text descriptions so viewers can share it with their friends on social media sites like Facebook and Twitter
2. Video Engagement Metrics
The average person spends more than an hour on YouTube every day. To optimize your YouTube videos for business, you need to understand how the platform works and how people use it. You also need to know what makes a video successful.
To make a video that grabs attention and converts views into customers, follow these steps:
Select one eye-catching title to introduce your content
Share a preview of what they can expect from watching the video
Share useful information in the first few seconds of the video so viewers will keep watching until the end
Include at least one call to action so viewers can take some action as soon as they finish watching
These metrics can be calculated using the likes, views, and comments on your videos, subscribers to your YouTube channel, and estimated watch time of your videos.
With the insights from this data, you'll have a better idea of where to focus your marketing efforts for optimum results. It may not seem like much, but optimizing YouTube videos for businesses can increase their effectiveness exponentially.
3. Analyze Competition
One of the best ways to optimize your YouTube videos for business is to understand what your competition is doing. By analyzing their videos, you can learn what works and doesn't and then use that information to improve your content.
Another great strategy is to upload similar content as your competitors but make it better. You'll likely be able to grow more subscribers because of it! Remember, though, that you must provide high-quality content to compete with others on YouTube.
Viewers will go elsewhere if your video quality isn't up to par. Quality is important on any social media platform – not just YouTube!
Here are some questions to ask yourself to determine how you are comparing to your competition:
What do my competitors have in common?
How does my video compare?
What are the pros and cons of each approach?
Which option will help me grow my subscriber base faster?
Should I copy them or try something new?
Does this sound like a good idea?
How should I start with my YouTube channel?
What kind of things should I keep in mind when uploading videos?
Related Posts
4. Optimize To Boost YouTube Rankings in Google
If you want your YouTube videos to rank higher on Google, you need to optimize them for both search engines and your target audience. Here are five tips with regard to that:
Use Keywords in Your Title and Description
You get to include a title and description when you upload a video.
Be sure to take advantage of this by including keywords relevant to your business that potential customers might use when searching for a business like yours.
Create an Engaging Thumbnail
Your thumbnail is the first thing potential viewers will see when they come across your video, so make sure it's engaging! A good rule of thumb is to use something eye-catching but not misleading or inappropriate.
You want people clicking on your video because they're interested in what you have to say, not because they clicked on the wrong thumbnail.
You can also learn to create interesting thumbnails and intros for your YouTube videos by watching several videos on how to make a free youtube intro.
Use Calls-to-Action at Appropriate Moments
If there's something about your company or product that's worth highlighting in the video, add a call-to-action annotation over it with a link directing viewers back to your website or landing page. You can also encourage viewers to subscribe to your channel, leave comments, or like videos if they find them helpful.
Just be sure to only do these things after explaining the details in order to avoid annoying viewers who would rather watch without any distractions. And always keep in mind the value of patience: don't bombard viewers with calls to action too often or too early in the video.
Finally, as tempting as it may be to add annotations every few seconds, resist the urge – they should only appear once every minute at most.
Makes Videos Visible
Utilizing SEO on your YouTube channel is an excellent way to increase the number of views your videos receive, and this will likely help you increase your metrics on engagement. The people you want to search for your keyword on YouTube want to find your video in the first few results pages, so if you don't use SEO, this will not happen.
By using SEO in your channel title, you'll ensure that when people search for your keyword, it will appear as related videos on their results page. This makes it easier for viewers of that video to see your related content.
You also have another opportunity during editing to include keywords in your video description. That way, when people search for those keywords on YouTube, they will find your content immediately.
However, while optimizing your videos with SEO can help get more traffic, there are some potential pitfalls too.
First, make sure you go through Google's guidelines for search engine optimization before making any changes to your account. Once you do this and implement the optimization tips mentioned above into your videos, there should be a noticeable difference in how many views they get over time.
If your videos are still not receiving enough views, consider implementing new tags or keywords. You may also have to change the thumbnail images or rearrange the order of your videos for better visibility.
When you follow these steps, you'll be able to optimize your YouTube channel and improve the number of views your videos get.
5. Optimize for Lead Generation
As a business owner, you know that generating quality leads is essential to your company's success. You also know that one of the best ways to generate leads is through online video.
But how do you make sure your YouTube videos are optimized for lead generation? Follow these steps and start generating more leads today!
Define Your Audience
This step may seem self-explanatory, but it's really important that you understand who you are targeting with your video. Is it a family? Is it corporate workers? Is it small business owners?
Knowing your audience will help you generate quality leads because you'll be able to provide content that is relevant and helpful for them.
For example, if you're creating a video about home mortgage rates and your target audience is home buyers, then the video should include information about mortgages and mortgage rates.
Know What Their Problem Is
Once you have identified the target audience, find out their problem or pain point.
If they are looking for tips on saving money on clothes, create a video that provides advice on saving money on clothes. If they are looking for tips on saving money on groceries, create a video that provides advice on saving money on groceries.
The more specific your advice is to their needs, the better chance you have at earning trust and interest from them – which means better conversion rates in attracting leads!
Identify Where They Spend Time
Online research has shown that people spend most of their time browsing social media sites such as Facebook, Twitter, Instagram, Pinterest, and Youtube – so these are all great places to post your video.
Include a Call-To-Action
A call-to-action is any phrase that encourages viewers to take action after watching the video (such as downloading an ebook or buying a product). Make sure you include one before the end of your video!
Conclusion
By following the tips above, you can optimize your YouTube videos for business and start reaping the benefits that come with having a successful online presence. From increasing brand awareness to generating leads and sales, YouTube can be a powerful tool for businesses of all sizes. So what are you waiting for? Get started today!